'The Fighter' In Real Life: 'High On Crack Street: Lost Lives In Lowell'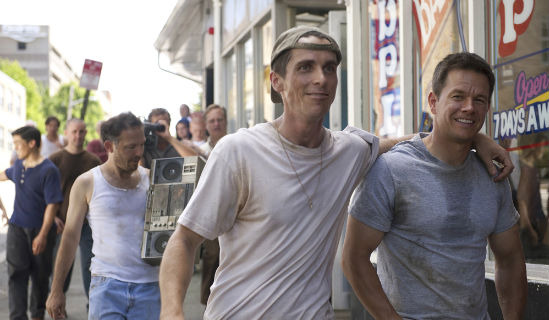 From the first shot of David O. Russell's The Fighter, it's obvious that a documentary within the film is going to be of paramount importance. And since The Fighter is based on a true story, the documentary in the film actually happened. It's called High on Crack Street: Lost Lives in Lowell, is incredibly significant to the structure of The Fighter, and now you can watch it online, for free.
One of the subjects of the documentary is Dicky Eklund, the brother of championship boxer "Irish" Micky Ward. Christian Bale plays Dicky in The Fighter and Mark Wahlberg plays his brother Micky. Before Micky's rise to fame, Dicky was once the "Pride of Lowell," himself, a boxing contender who went toe to toe with legendary boxer "Sugar" Ray Leonard. However, if you've seen either film, you know that things took a turn for the worst for Dicky. After the jump, learn where you can watch the documentary and more. The documentary is available at SnagFilms and you can watch a trailer for it below. It also includes a link to the full thing, which runs just under an hour.
Watch more free documentaries
Whether you've seen The Fighter, or even if you haven't, feel free to watch this documentary. If you watch The Fighter first, the way the documentary is used as a plot point will pique your interest to see it and if you watch Crack Street first, you'll have an incredible amount of context for the movie once you see it.
Here's the description of High on Crack Street: Lost Lives in Lowell.
In blue-collar Lowell, Massachusetts, where disappearing industry has produced high unemployment, some residents have turned to crack for relief – only to see their dreams of a better life go up in smoke. High on Crack Street: Lost Lives in Lowell is a harrowing documentary chronicling 18 months in the lives of three crackhouse friends whose addiction has let them to crime and despair.
Brenda, Dicki and Boo-Boo have grown up in and around Lowell. Brenda was an aspiring actress; now she resorts to prostituion to pay for her crack addiction. "I love it more than anything. More than life itself. Yet I hate it worse than anything", says Brenda. Dicki was the "Pride of Lowell" a boxer who once fought Sugar Ray Leonard. He commits robberies to support his habit. Boo-Boo has spent the last twenty years smoking crack, shoplifting, and doing whatever he has to do to stay alive.
To make the film, documentarians Jon Alpert and Mary Ann DeLeo teamed up with Lowell resident and former drug addict Rich Farrell, who was able to obtain remarkable access to the town's drug subculture. In the eighteenth months it took to complete this documentary, the camera follows Brenda, Dicki and Boo-Boo in and out of crack houses, rehab centers and jails. Their sad struggle mirrors the despair of their home town. There are many 'Lowells' in America – where citizens are abandoned to drugs and the empty factories echo their despair.
If you have seen The Fighter, were you curious about this documentary? And do you think watching this would in anyway taint Bale's portrayal of the character?