Is 'Hawaii,' Starring Barbie And Ken, Pixar's Pre-'Cars 2' Short?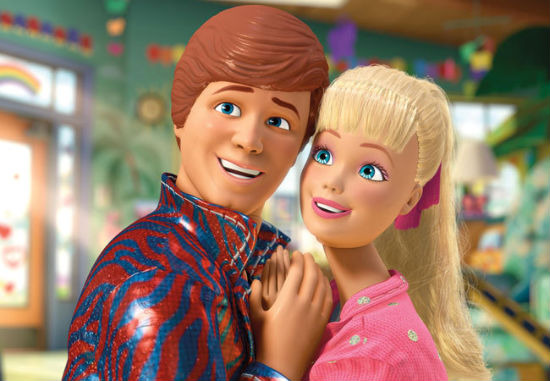 When Toy Story 3 director Lee Unkrich was doing the rounds promoting his blockbuster film, he revealed that audiences would next see the Toy Story characters in a short film in front of Cars 2. We now have an idea of what that, specifically, might be. Disney/Pixar animator Floyd Norman recently tweeted that he saw a new Disney/Pixar short called Hawaii and added this information "Ken and Barbie want to go to Hawaii. I don't know what it's gonna be attached to. Fun stuff, however."
Is this Pixar's short that'll be attached to Cars 2?
We got the drop on this story from Pixar Planet who said their forums were "abuzz" a while back about a short film called "Dream Vacation" which sounds like the short film that Norman was referencing.
Focusing on Ken and Barbie makes total sense. Pixar wouldn't waste a Buzz and Woody story on a short film and, in my opinion, Ken and Barbie's scenes are both some of the most rewarding, and frustrating scenes, in all of Toy Story 3. The fashion show, for example, is amazingly funny. Later, seeing the couple all happy and running Sunnyside is frustrating because it feels like their story wasn't even close to as well developed as all of the other main characters. They're just slapped with a happy ending. Hopefully Hawaii, where ever it shows up, will expand on that.
Here's what Unkrich said to MSN in June. And now, in retrospect, a short like Hawaii definitely seems to fit in with his cryptic hints.
Well, I really tried my best to end the story of Andy and his toys and bring that story to a close in a really nice way at the end of this film. That being said, we know that people love the characters, love Woody and Buzz, and would hate to say good-bye to them completely. I don't know that there would ever be a '[Toy Story] 4.' We don't have any plans for one — but we are trying to find ways to keep the characters alive. We have announced we're going to do a short film in front of 'Cars 2? that uses the 'Toy Story' characters. We're going to keep them alive; they're not going away forever.
Would having a Ken and Barbie short in front of Cars 2 make you want to go to the theater more?