Concept Art: Battlestar Galactica: Blood And Chrome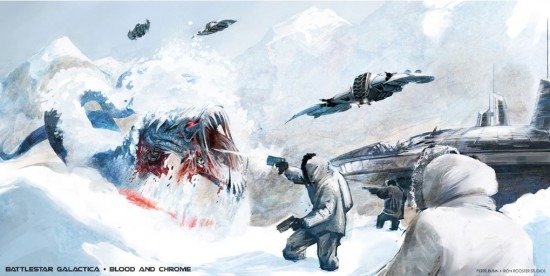 In October it was revealed that the Syfy network greenlit a two hour pilot called Battlestar Galactica: Blood & Chrome which would follow a young William Adama as a Viper pilot on the Battlestar Galactica during the first Cylon war. Adama is a legendary military leader, in the 2004 series portrayed by Edward James Olmos, tasked with helping the human race survive after the enemy Cylons destroy their home.
Today we get our first look at the upcoming series, thanks to a series of concept artwork released on the Syfy website. Executive producer David Eick is at the controls of the new series, with the plan being to present a more action-packed storyline than the now canceled Caprica prequel show. And the new concept art definitely looks exciting. I can't wait to see what it will look like in live-action. Hit the jump to see some of the concept artwork.
This is the official description of the pilot episode of the show, according to a Syfy press release:
Battlestar Galactica: Blood & Chrome takes place in the 10th year of the first Cylon war. As the battle between humans and their creation, a sentient robotic race, rages across the 12 colonial worlds, a brash rookie viper pilot enters the fray. Ensign William Adama, barely in his 20's and a recent Academy graduate, finds himself assigned to the newest battlestar in the Colonial fleet' the Galactica. The talented but hot-headed risk-taker soon finds himself leading a dangerous top secret mission that, if successful, will turn the tide of the decade long war in favor of the desperate fleet.
Head over to Blastr to see more concept artwork from the show.