First Look: Rachel Weisz In 'The Deep Blue Sea'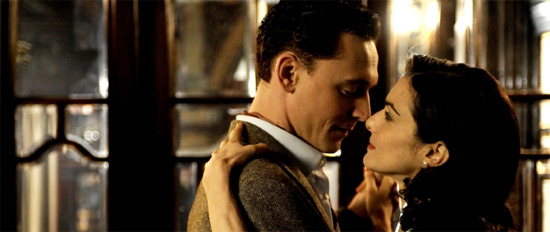 Rachel Weisz has a few interesting projects coming up. She's got a role in Terrence Malick's new film, (not The Tree of Life, but the one he's been shooting recently, possibly called The Burial) and is set for Fernando Meirelles' film 360 and may be in Lynn Shelton's new film with Emily Blunt.
Plus, she's shooting the film The Deep Blue Sea right now, directed by Terence Davies and co-starring Tom Hiddleston, who plays Loki in Thor. That's a close-up of the first image from the film, above, and the full version is after the break.
Empire has the image. The Deep Blue Sea is based on the play of the same name by Terence Rattigan, and is set in the '50s in Merseyside and London. Rachel Weisz plays "dazzling socialite Hester Collyer," while Tom HIddleston plays "a dashing ex-RAF pilot." They've got a thing going, but she's married to a judge played by Simon Russell Beale. So there's a choice to be made, and if the film follows the play faithfully, there will be some pretty serious complications.
The character descriptions and plot info that Empire presents, which come from the production company, suggest that either a couple liberties have been taken or, more likely, that they're hoping people aren't entirely familiar with the play and how a couple of the characters end up. If things work out well, there will be some scenes in The Deep Blue Sea in which Rachel Weisz can really show off some dramatic fireworks, so I'm hoping for the best.
Here's the full image.