Casting Bits: Christina Hendricks, Olivia Munn And Others Join 'I Don't Know How She Does It,' Alec Baldwin Circling 'Rock Of Ages,' Katee Sackhoff Is A 'Sexy Evil Genius' And More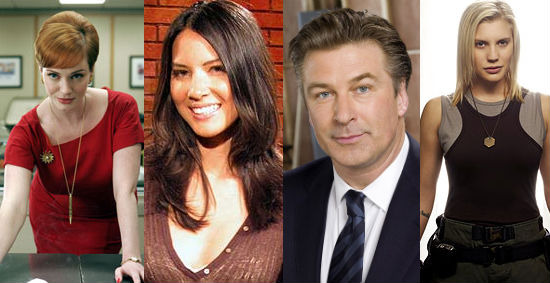 Most of us stop thinking about work as we enter the holiday season, but Hollywood actors and actresses are lining up their jobs for the new year.  There is a whole bunch of casting news that's recently been announced, much of it in the romantic comedy genre, and here's the rundown.
Mad Men's Christina Hendricks and G4's Olivia Munn will join Kelsey Grammer and Pierce Brosnan in the comedy I Don't Know How She Does It, which stars Sarah Jessica Parker as a woman juggling her work on Wall Street with a family life. Parker herself is also joining the huge ensemble for Garry Marshall's romantic comedy New Year's Eve while Halle Berry is in negotiations for a role too. 30 Rock award winner Alec Baldwin is the latest actor circling a spot in the Broadway adaptation Rock of Ages. Everyone's favorite Viper pilot, Battlestar Galactica's Katee Sackhoff will star in Sexy Evil Genius, which is about a girl who brings all her exes to the same bar. Rosario Dawson and Lynn Collins are now part of the high school reunion film Ten Year with Chris Pine and Channing Tatum and Ed Burns joins Megan Fox and Jon Hamm in Jennifer Westfeldt's romantic comedy Friends With Kids.
A lot to digest, we know. There's so much more info after the jump that you'd be crazy not to click.
I Don't Know How She Does It is based on a popular British book by Allison Pearson about a woman who has to balance her life in the financial fast lane along with her family and friends. The film adaptation, which is being directed by Doug McGrath, starts shooting in January, stars Sarah Jessica Parker as the main character and TV hotties Christina Hendricks and Olivia Munn were just added to a cast that also includes Kelsey Grammar and Pierce Brosnan, according to the Los Angeles Times.
Parker is also the latest star to sign on the dotted line to appear in New Year's Eve, the sort of sequel to this year's Valentine's Day, which is scheduled for release December 9, 2011. According to Variety, the Sex and the City star just joined and Halle Berry might be next. The cast for this one, directed by Garry Marshall, is insane. There's Jessica Biel, Abigail Breslin, Robert De Niro, Ashton Kutcher, Lea Michele, Michelle Pfeiffer and Hilary Swank just to name a few.
Another upcoming huge ensemble movie is Ten Year, which will mark the directorial debut of Jamie Linden, who wrote We Are Marshall. It's about – you guessed it – a ten year high school reunion and stars Jenna Dewan, Kate Mara, Anna Faris. Brian Geraghty, Justin Long, Channing Tatum, Chris Pratt, Chris Pine, Oscar Isaac, Anthony Mackie and Scott Porter. Now, adding more star power to the girls side are Rosario Dawson and Lynn Collins, according to the Hollywood Reporter.
Both Gwyneth Paltrow and Tom Cruise have been mentioned as possible stars for an upcoming adaptation of the Broadway hit Rock of Ages, which is to be directed by Adam Shankman. The latest name mentioned is Alec Baldwin who, according to The Hollywood Reporter, might play a character named Dennis Dupree, who runs the Rock of Ages club. The role was first offered to Will Ferrell and Steve Carell. Shankman himself added to the casting rumors by tweeting "RUMORS: t cruise as stacee, Alec Baldwin as Dennis, Mary j as justice, Gwyneth paltrow as Constance from rolling stone... Sounds crazy
"
Sexy Evil Genius will star Katee Sackhoff as a girl who mysteriously decides to rope all of her ex-boyfriends into meeting her at the same bar, on the same night, at the same time. It'll be directed by Shawn Piller, best know for producing Greek on ABC Family and is written by Scott Lew. Thanks again to The Hollywood Reporter.
A few weeks back, we revealed some photos from the set of Jennifer Westfeldt's Friends With Kids. Westfeldt did Kissing Jessica Stein and will also star in this romantic comedy about two thirtysomething friends who have a child together, then decide to date other people. MTV is reporting that Ed Burns is now joining the cast which already includes Kristen Wiig, Adam Scott, Jon Hamm and Fox.
A lot of big movies mentioned there. Which do you think sound most exciting?