First Look: Luc Besson's Political Drama 'The Lady,' Formerly Called 'Into The Light'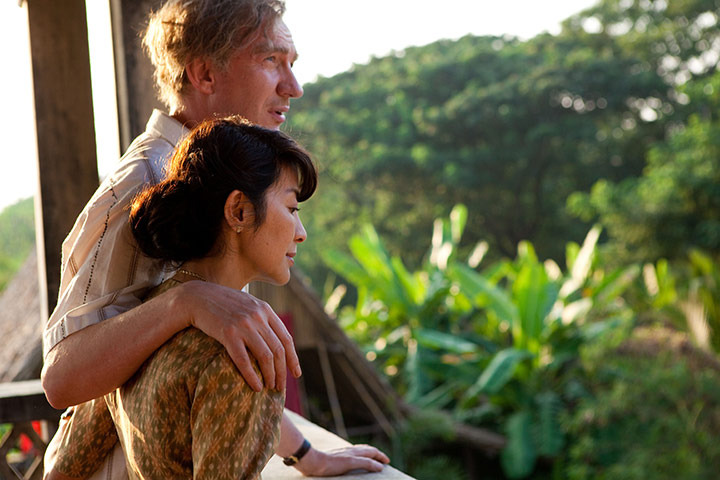 This one just came out of nowhere. For the past few months there had been word that Luc Besson might be planning a new epic romance or a massive sci-fi film. But now he's shooting The Lady, which is a film about Burmese democratic leader Aung San Suu Kyi. Michelle Yeoh plays the cultural heroine, who opposed military rule in Burma and spent much of the past twenty years under house arrest as a result. David Thewlis plays her husband, Michael Aris. That's the first image from the film, above, and there are more after the break.
The Guardian (more stills there) says that the Oxford portion of the film's shoot is almost wrapped. The film has already shot in Thailand and will soon be moving on to France. The paper also notes that it is forbidden to say Aung San Suu Kyi's name in Burma, and she is therefore called The Lady, which leads to the title of the film.
The film is set between 1988 and 1999 and will follow Aung San Suu Kyi's journey from housewife in Oxford, England to Burmese political leader. After meeting the subject of the film, who was just released from house arrest this past November, Michelle Yeoh told the Guardian,
You feel a real sense of calm when you're with her. She's a very striking figure. She is so proud of her culture and the best way to show it is with dignity and elegance. She has a glow and an aura about her.
Luc Besson explains the appeal of the film,
It is the fight of a woman without any weapons, just her kindness and her mentality. She is very Gandhi like. She says we should have the right to decide our future, we should have the right to express ourselves. She is asking for things we all have and don't even think about any more. How often in history do you have a person, a woman, who never curses, never steals anything, never does anything illegal and you put her under house arrest for 24 years, it is just insane.