David O Russell Provides Commentary On 'The Fighter' Fight Scene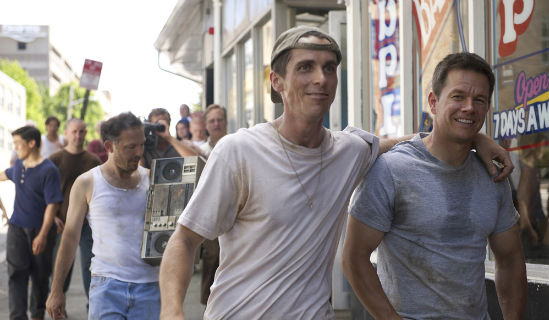 Filmmaker David O Russell has released a short audio commentary excerpt for a fighting sequence of The Fighter, his new film which stars Mark Wahlberg and Christian Bale. Russell discusses how he employed a recreation of an early-90?s HBO Sports camera crew to shoot the in-ring sequences. Watch the clip embedded after the jump thanks to The Carpetbagger.
Official Production Notes:
Inspired by an incredible true story, comes the gritty, affectionately humorous, yet stirring comeback tale of the unlikely boxing hero, "Irish" Micky Ward (MARK WAHLBERG), and his half-brother, Dicky Eklund (CHRISTIAN BALE), who had to come apart as opponents before coming together as brothers in a scrappy fight to win a long-shot championship and strengthen the bonds of their family.
Years in the making, The Fighter was shot in just 33 days on the blue-collar streets of Lowell, Massachusetts. Early on, producers David Hoberman and Todd Lieberman fell in love with the story of Micky and Dicky and saw that it was about so much more than just an underdog's athletic victory. Star/producer Mark Wahlberg, director David O. Russell and a close-knit cast and crew united behind a vision to bring Micky and Dicky's deeply human family to life in a series of alternately comic, tender, bruising and triumphant moments that unfold as much in the living room as in the boxing ring.
The story begins as Dicky, the town's pride who once went toe-to-toe with Sugar Ray Leonard, has fallen on hard times. Meanwhile, Micky has become the family's fighter, with his fledgling career managed by his mother Alice (MELISSA LEO). Yet, despite his gutsy left hook, he keeps getting punished in the ring. When Micky's latest mismatched fight nearly kills him, he is persuaded by his iron-willed new girlfriend, Charlene (AMY ADAMS), to do the unthinkable: split with his family, pursue his own interests and train without his troubled brother.
Then, Micky gets the shot of a lifetime at a title fight, but it soon becomes clear that it will take his brother and the whole family to get him there. Defying the naysayers, he sets out on a bid for redemption that will bring Dicky, Charlene, Alice and the entire Ward/Eklund brood back into his corner, resulting in one of the sport's most surprising strings of victories. Out of nowhere, Micky will become a champion, known as a resilient and loyal battler who fought, hardest of all, for his family.
"The Fighter is about family, love, relationships and overcoming adversity. The drama of the story is as powerful as the boxing is exciting," explains Mark Wahlberg, who trained intensively for several years to take on the physically and emotionally demanding lead role of Micky Ward. "David O. Russell really had a great view of the script, of this world and the people in it. David got that scrappy spirit of the movie, and we did exactly that."
Paramount Pictures and Relativity Media present in association with The Weinstein Company a Relativity Media, Mandeville Films and Closest to the Hole Production a David O. Russell Film The Fighter starring Oscar®-nominated Mark Wahlberg (The Departed), Christian Bale (The Dark Knight, Terminator Salvation, Batman Begins), Oscar®-nominated Amy Adams (Enchanted, Doubt, Julie & Julia) and Oscar®-nominated Melissa Leo (Frozen River, 21 Grams, The Dry Land). David O. Russell (Spanking the Monkey, Flirting with Disaster, Three Kings) directs from a screenplay by Scott Silver (8 Mile) and Paul Tamasy (Air Bud) & Eric Johnson and a story by Keith Dorrington & Paul Tamasy & Eric Johnson. David Hoberman, Todd Lieberman, Ryan Kavanaugh, Oscar®-nominated Mark Wahlberg, Dorothy Aufiero and Paul Tamasy serve as producers. The executive producers are Tucker Tooley, Darren Aronofsky, Leslie Varrelman, Keith Dorrington and Eric Johnson. The film is co-produced by Jeff Waxman and Kenneth Halsband.