Two New 'Red State' Posters: Caleb And The Sons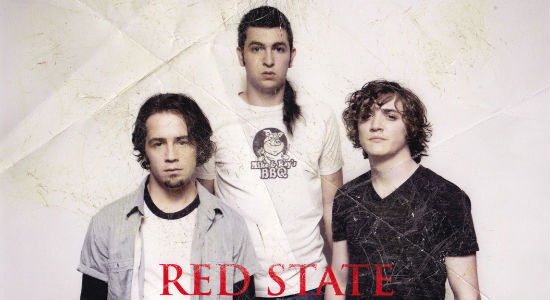 Writer/director Kevin Smith continues to use our insatiable appetite for film news to its full best potential. Just this week, he auctioned the exclusive debuts of two more posters for his upcoming film Red State with all proceeds going to The Kenny Gordon Foundation. The foundation is a worthy charity that has set up scholarships, camps and more for underprivileged students and Smith took to Twitter to auction off the rights to each poster, vowing to match the winner's donation himself. In under 30 minutes each, both XCellent Creatons and the Pussy Eating Club won their poster exclusives for $1,800 and $1,700 respectively. That means, because of these two posters, $7,000 was donated to The Kenny Gordon Foundation. Bravo Kevin and the guys at XCellent Creations and the Pussy Eating Club. Check out both posters in their full glory after the jump.
Once again, thanks to XCellent Creations for the first poster and the Pussy Eating Club for the second.
Smith went a similar charitable route for some previously revealed character posters for Red State, such as "The Virgin" and "The Father" and there's also the teaser poster that you can see here.
The film, starring Michael Angarano, Kerry Bishe, Nicholas Braun, Kyle Gallner, John Goodman, Melissa Leo, Michael Parks, Kevin Pollak and Stephen Root, will premiere on January 23 at the Sundance Film Festival.
Here's the official plot description thanks to the Sundance website, which gives a few new details about the film.
Ever since Clerks (cowinner of the Filmmakers Trophy at the 1994 Sundance Film Festival), Kevin Smith has been known for his sharp, subversive, comedic writing. He shifts from comedy to horror with Red State and aptly demonstrates that good writing transcends genre.  Red State begins by following three horny high-school boys who come across an online ad from an older woman looking for a gang bang. Boys being boys, they hit the road to satisfy their libidinal urges. But what begins as a fantasy takes a dark turn as they come face-to-face with a terrifying "holy" force with a fatal agenda. Instead of relying on archetypes and predictable formulas, Smith meticulously fashions all-too-real characters, utilizing exceptional performances (notably by Michael Parks) and an intelligent script. His realistic style gives the film an intimate feeling, heightening the terror to biblical proportions. Red State is a shocking new kind of horror film that aggressively confronts higher powers and extreme doctrines with a vengeance.
What do you think about these posters and Red State in general?