Producer Gale Anne Hurd Would 'Love' To Make Another 'Terminator'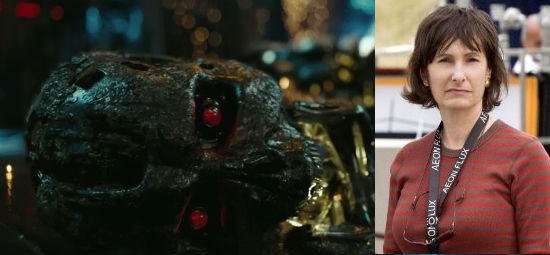 The Terminator series is responsible for one of my best, and worst, film going memories. The good one was back in the Summer of 1991 when my parents picked me up at  camp and surprised me by driving to the Chester 6 Cinemas in Chester, New York for a matinee of Terminator 2: Judgement Day. The surprise was awesome and the movie put it over the top. To this day, T2 remains a favorite.
The flip side to that memory was Terminator Salvation. Just the whole experience. Of course Terminator: Rise of the Machines was bad, but at least it didn't completely forgo the tried and true Terminator formula while simultaneously bastardizing the films that came before it. As a huge Terminator fan, that was a blow.
So, when Gale Anne Hurd, who is currently producing The Walking Dead and produced the first three Terminator films, says that she's love to do another one, my reaction is mixed. Read more of her comments and share your thoughts after the break.
In an interview with Entertainment Weekly, Hurd discussed the madness surrounding the rights to the series and said, if everything worked out, she'd love to do another one.
It's very sad. You feel like you gave birth to something and it's been adopted and those adoptions haven't worked out. Of course I'd be interested in doing another one. I'd love it.
She's talking, of course, of the fact that Terminator Salvation was produced by Halcyon, which went bankrupt soon after the film was released, the very public bidding war for the rights to the films earlier this year and the eventual purchase by Pacificor. Outside of The Hobbit, few other franchise films have found themselves so marred in red tape.
After the dud that was Terminator Salvation, I'd definitely be open to a new Terminator film, but with extreme caution. That film left a wound that doesn't heal easily. McG talked up that movie so much, showed so much great footage but when it came to opening night, Salvation just fell so flat that I've almost completely erased it from my mind. Though I did enjoy the first season of The Sarah Connor Chronicles (to me, that's Terminator 3), now, I pretty much only think of the Terminator films as two, perfect, James Cameron creations and that's it. Of course, Gale Anne Hurd was a huge part of those too so with her back on board, maybe the franchise could come back once again.
Would you like to see another Terminator movie? And are you as big a Salvation hater as I am?