January Jones Talks About Emma Frost's CGI Mutant Form In 'X-Men: First Class'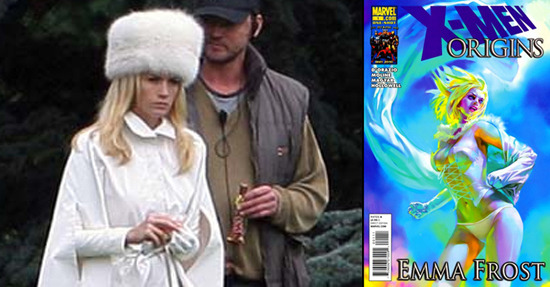 Matthew Vaughn's X-Men: First Class will be released later this year, and Fox has managed to keep the film somewhat quiet. A lot of fragmentary info has leaked out, creating a partial image of what we can expect from the '60's era prequel that explores the early friendship and enmity between Professor Charles Xavier (James McAvoy) and Magneto (Michael Fassbender).
Add a couple more tiny bits of info to the pile, as January Jones, who moves from Mad Men into the white boots of Emma Frost, has talked on the record about a few aspects of the film.
The most notable bit of info to come out of the chat between January Jones and the LA Times is the nugget that Emma Frost's mutant 'diamond' form will be created entirely with CGI. "I don't have to do all the crazy prosthetics... When I morph into my diamond form, it's all done on computer."
The article only discusses the story in broad terms, but does use input from some of the creative team to liken the story arc between Xavier and Magneto to the political paths of real-life figures Martin Luther King Jr. and Malcolm X, which is an attention-getting take on the story. The piece doesn't offer too much extra detail, but relates that the actress deeply researched the character, looking into the young Emma Frost, who couldn't quite control her telepathy and "had a falling out with her father and went her own direction."
There's another month left to shoot, and then the film opens in June — a crunched but not unmanageable schedule. With that timeframe we could see a teaser trailer pretty soon; it won't be long before the marketing blitz really begins.
Matthew Vaughn directs, and alongside Jones in the cast are James McAvoy, Michael Fassbender, Rose Byrne, Kevin Bacon, Nicholas Hoult, Jennifer Lawrence, Caleb Landry Jones, Lucas Till, Edi Gathegi, Jason Flemyng, Oliver Platt, Morgan Lily, Zoe Kravitz, Bill Bilner. X-Men: First Class opens on June 3, 2011.