New 'Paul' Teaser Poster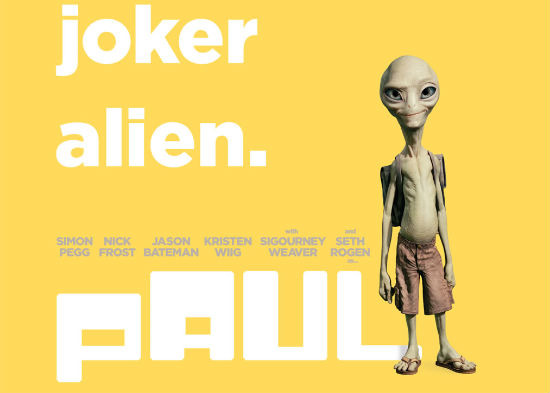 With a cast to die for including Simon Pegg, Nick Frost, Seth Rogen, Kristen Wiig, Jason Bateman, Bill Hader, Joe Lo Truglio, Jane Lynch, Jeffrey Tambor, and Sigourney Weaver, it's hard not to be excited for director Greg Mottola's Paul. From a script by Pegg and Frost, the film follows two friends who pick up a real life alien on their road trip visiting famous alien landmarks across America.
The full trailer will premiere Friday and now, thanks to Collider, we've got the first official teaser poster which prominently features the title character, voiced by Seth Rogen. Check out the full image after the jump.
Again, thanks to Collider. Here's the new poster.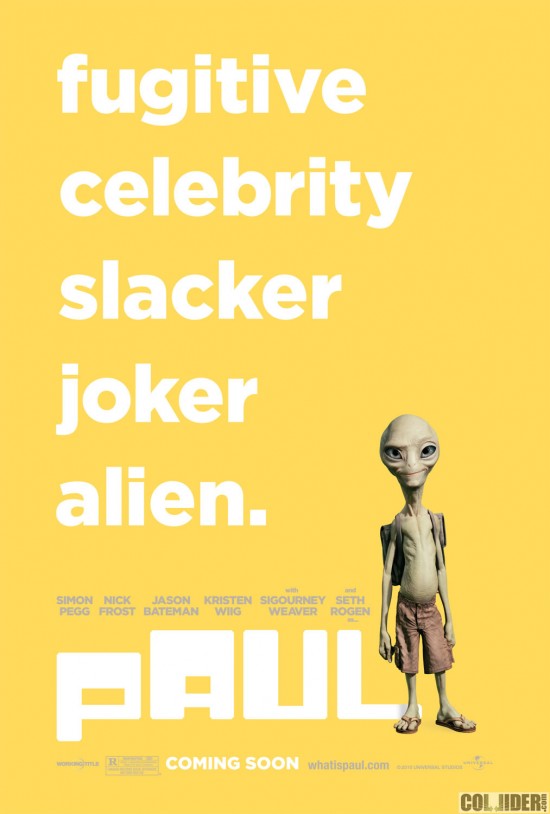 If we're being honest, the two U.K. posters we saw from the film (here and here) certainly give a better idea of what audiences are going to see. However, Universal probably assumes that in America, most moviegoers aren't going to a movie just because Simon Pegg and Nick Frost are in it. So by focusing on Paul, who is voiced by the most popular name in the cast, and telling the audience about him, you simultaneously raise audience awareness about your title character and make people want to know more. There's no way anyone who walks by the above poster wouldn't be curious about it.
Last month, we posted some new stills from the movie and I wrote about the buzz based on some early test screenings. In case you missed it, here's what I wrote:
Paul has already begun test screening and I heard some early buzz about the film. From what I heard, even in its unfinished state, the film has a ton of huge R-rated laughs with plenty of heart (tears were reportedly shed) to go along with an insane amount of pop culture references. That was music to my ears but it also got me thinking – a film about two nerds and aliens filled with pop culture references might steer dangerously close to Kick-Ass or Scott Pilgrim vs. The World territory. Meaning, is it going to be a really fun film that people who read movie blogs enjoy but that the rest of America doesn't connect with? The big difference is that while those films had talented directors, neither Matthew Vaughn or Edgar Wright has had a film connect with audiences like Mottola, who had a huge hit with Superbad. Maybe he'll be able balance the niche humor that's sure to be prevalent in Pegg and Frost's script with more universal laughs.
So, when Paul does open on March 18, it seems like we are in store for a really funny movie.
What do you think of this poster as opposed to the other ones? And are you excited for Paul?