'The Muppets Movie' Books A Fun Musical Cameo; Bret McKenzie Of 'Flight Of The Conchords' Contributing Songs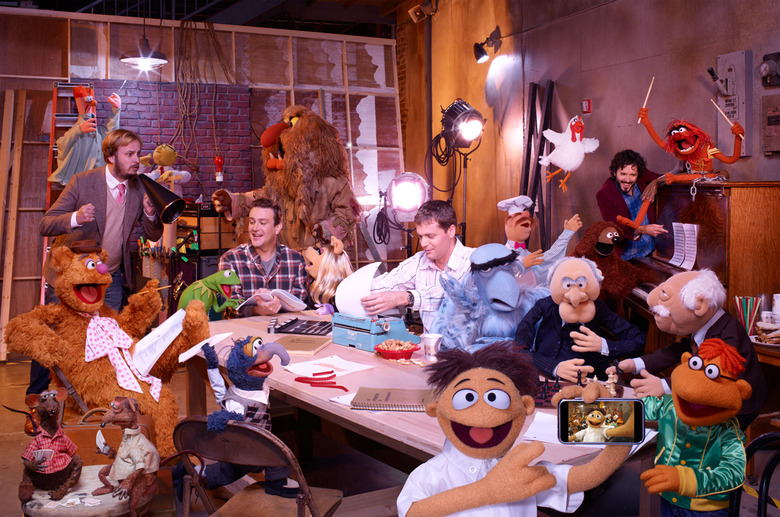 First up, the two items in the headline are not related, though with Bret McKenzie is working with Jason Segel on songs for The Muppets Movie, and with his Flight of the Concords director James Bobin directing the Muppet film, don't be surprised to see him end up in the film.
So hit the break to find out about the musical cameo, and to get a bit more info about Bret Mackenzie's work on the movie.
So our newest addition to the film's massive cameo list (which I won't further spoil, but you can check out here) is former Nirvana drummer and current Foo Fighters frontman Dave Grohl. Makes a certain sort of sense, as he kind of looks like a real-life muppet. Kerrang magazine reports that he'll fill in for Muppet drummer Animal when the muppet is forced into anger management counceling. Perfect casting, really. But can his appearance here hope to match the Evil Dead influenced entertainment of the 'Everlong' video?
Here's the article announcing Dave Grohl's involvement: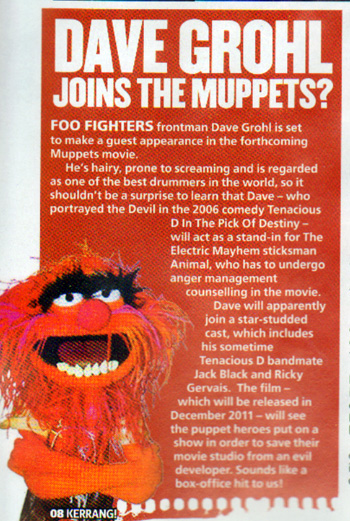 And then there's Bret McKenzie, who is acting as music supervisor for the film and has written several songs. "It was really unexpected. We were in the studio recording Kermit the Frog and Miss Piggy. It was a very surreal experience," he told Stuff.co.nz.
Mr. McKenzie's involvement was already confirmed by his appearance in a promo photo for the film (seen above), but knowing that he's writing some songs in addition to making an appearance adds another layer of appeal to the project.
The Muppets Movie (which was recently called The Muppets and may yet find another title) is written by Jason Segel and Nicholas Stoller features Jason Segel as a human named Gary whose best friend is a Walter, a new iPhone-wielding Muppet. These two die-hard Muppet fans go on a journey with Gary's girlfriend Mary (Amy Adams) to defeat the evil Tex Richman (Chris Cooper), a man who doesn't find the Muppets funny and thinks he can smell oil beneath their studio. Rashida Jones also has a big role.
The film will hit theaters on November 23, 2011.
[via Bleeding Cool]