Sacha Baron Cohen Might Be Spanish Gross-Out Hero 'Torrente'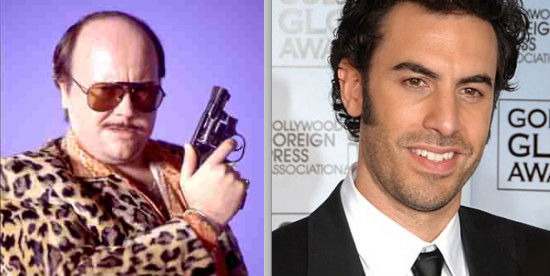 In the United States, we're so used to our own franchises it's easy to forget that other countries have their own too. One example are the Torrente films in Spain. Created and portrayed by Spanish comedian Santiago Segura, the Torrente films follow an overweight, racist, corrupt cop who gets fired from the force but still patrols the streets. Three incredibly successful films have already been released, a fourth one will be out next year and there are even video games starring the gross-out character. He's the Spanish Bad Lieutenant meets Austin Powers.
New Line Cinema owns the rights to the character and are currently developing an American remake. While nothing is set in stone, the Los Angeles Times reports that Sacha Baron Cohen has taken several meetings about the role and is considering it as his next starring vehicle after he completes The Dictator next year. Read more after the break.
The Los Angeles Times reports that New Line has former Seinfeld writers Alec Berg, Jeff Schaffer and David Mandel currently working on a script. They're the same trio working on The Dictator, too, so maybe they can put in a good word with Cohen.
I'll admit, until I read the LA Times story I had never heard of the Torrente films but now I'm dying to see them. The fact that a character like this – who is evil, unlikable but ultimately a hero – can be such a massive hit feels decidedly un-American. Sure we release plenty of films which feature an anti-hero, but Torrente sounds like much more than that. A gross, offensive anti-hero that almost begs you hate him. How is a possible a character like that could be cultural phenomenon in Spain, spawning sequels and games? The New York Times did a really informative piece on the franchise a few years ago too and chalked it up to everyone's love of gross out humor, among other things.
What, if anything, do you all know about the Torrente films? And do you think Sacha Baron Cohen would make a good Torrente? Who else could work?