First Look: Glenn Close As The Title Character In 'Albert Nobbs'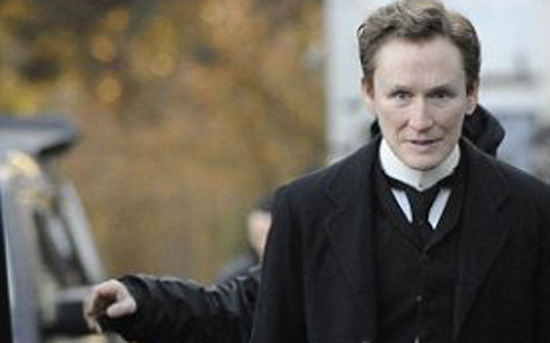 Early this week Glenn Close started filming her passion project Albert Nobbs, which adapts a story about a woman who disguised herself as a man to escape poverty in 19th Century Ireland. Mia Wasikowska and Aaron Johnson are also in the cast of the film, which Rodrigo Garcia is directing from a script by Glenn Close and John Banville.
That's the first look as Close in character, above, and it's pretty damn convincing. See a bigger image after the break.
19th century Ireland: a woman with no husband or family and without work would face a bleak life of poverty and loneliness. Albert, a shy butler who keeps himself to himself, has been hiding a deep secret for years – 'he' is a woman who has had to dress and behave as a man all her life in order to escape this fate. When handsome painter Hubert Page arrives at the hotel, Albert is inspired to try and escape the false life she has created for herself. She gathers her nerves to court beautiful, saucy young maid Helen in whom she thinks she's found a soul-mate – but Helen's eye is on a new arrival: handsome, bad-boy Joe, the new handy-man! As Albert dares to hope that she might one day live a normal life, we catch a glimpse of a free-spirited woman who is caught in the wrong time... This humorous but ultimately poignant ensemble story about life 'below-stairs' is nothing less than Gosford Park meets Boys Don't Cry.