Bill Hader Has No Idea About 'Ghostbusters 3' Casting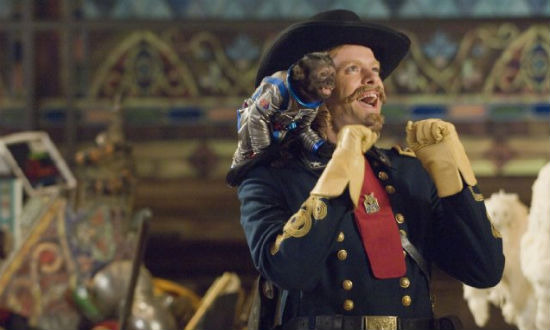 Dan Aykroyd seems to be massaging the truth when it comes to Ghostbusters 3. He has no problem talking about the long gestating and perma-rumored project, but even when the co-writer, co-star and co-producer offers up a supposed confirmation, it has to be taken with a grain of salt. Last month, for example, he "confirmed" some casting rumors that actors like Bill Hader and Anna Faris were being considered for roles in the new film.The Playlist went right to the source and asked Hader about these rumors. Guess what? He has no idea what Aykroyd is talking about. That doesn't mean Aykroyd is lying, just that the process isn't nearly as far along as he made it sound. Read Hader's quote and more after the jump.UPDATE: Anna Faris has commented too. Read about it below.
Here's what Hader told The Playlist at the True Grit premiere.
I heard about it the same way you guys did! I went online and was like, 'Woah! Cool!' All my friends were calling, 'Are you gonna be in Ghostbusters 3?' I obviously am very flattered, but I don't know anything about it.
What this probably means is Aykroyd and crew have a wish list of actors who they'd like to star in the movie and Hader is on it. At that point in the process, it makes sense that Hader hasn't been contacted. It's normal Hollywood protocol to not mention anyone's name publicly until there's some sort of deal set in motion which is why you so rarely hear about the actors who don't get cast in a role. So, the fact that Aykroyd named names made it sound like the casting process was underway when, it's obviously not.
Hypothetically, Hader still could appear in the film, he just hasn't been contacted about it. And actually, almost any actor would be crazy to turn down a role in Ghostbusters 3, so that's probably why Aykroyd is talking. He knows they can get anyone they want.
What is official for Hader, though, is his upcoming role as a (hopefully) hilarious bad guy, chasing the main characters in Paul, which opens this Spring. He's still working on a Judd Apatow-produced comedy called House of Joel which he co-wrote with Simon Rich. Human Giant's Jason Woliner is now working on a new draft of the script, which is about a slacker named Joel who is stalked by a mysterious person.
Hader remains one of the funniest actors on Saturday Night Live and he's really carving out a nice niche in movies too – whether it's with his voice like in Scott Pilgrim vs. The World and Cloudy With A Chance of Meatballs, or as a comedic mad man – like in Superbad or Night at the Museum: Battle for the Smithsonian.
What do you think is going on with Aykroyd and do you think Hader would make a good Ghostbuster?
UPDATE: Anna Faris has also confirmed she has no idea what Aykroyd was talking about, but that she'd LOVE to do it. She gives a great answer in this Making Of video, about 75 seconds in.