This Week In DVD & Blu-Ray: The A-Team, The Other Guys, The Town, Despicable Me, Legend Of The Guardians, Cyrus, And More
We may receive a commission on purchases made from links.
This Week in DVD & Blu-ray is a column that compiles all the latest info regarding new DVD and Blu-ray releases, sales, and exclusive deals from stores including Target, Best Buy and Fry's.

EXIT THROUGH THE GIFT SHOP
Describing the engrossing, frequently hilarious Banksy-directed Exit Through the Gift Shop as one of the best story-driven documentaries I've ever seen would almost certainly be misleading, as its veracity has been a point of contention since its Sundance premiere. To delve into the topic further would require detailing plot details that I'd be remiss to give away, so I'll just say this: The strength of the film is that whether or not it's authentic doesn't matter. The ultimate take-away from the picture comes from a place of complete truth, and that truth only resonates in the way that it does because the story was told in this form. Not only does the picture provide fascinating insight into the world of graffiti art, but it tackles the nebulous subject of the nature of art and people's perception of it in a way that appalled and fascinated me. Give it a chance, and I'm sure it will do the same to you.
Available on Blu-ray? No.
Notable Extras: B Movie film about the 'Art' of Banksy, a Life Remote Control (Lawyer's Edit) movie that started it all, deleted scenes, and limited edition inserts designed by Banksy.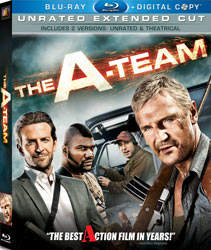 THE A-TEAM
I saw The A-Team about half a year ago and it's a struggle to remember a single thing that happened in it. I vaguely remember enjoying it, but it took re-listening to our /Filmcast discussion of the film to remind myself of that fact. So based on that I think it's safe to say the film is forgettable, but don't take that to mean I'm dismissing it. There is certainly a place for the sort of absurd action that The A-Team has to offer, so long as you can easily overlook clumsy, inane plotting in a film that's only real intent is to deliver ridiculously over-the-top set pieces and an occasional laugh. Not since Transporter 2 have I seen a movie so enthusiastic about its own unrelenting stupidity. Maybe that says something about me though, because I dug that movie, too.
Available on Blu-ray? Yes.
Notable Extras: DVD – The theatrical cut of the film, as well as a never-before-seen version of the film with "spectacular added footage not shown in theaters". Blu-ray – Includes everything on the DVD, as well as a Visual Effects Commentary, deleted scenes, featurettes ("The Devil is in the Details: Inside the Action with Joe Carnahan", "Plan of Attack"), an A-Team Theme Mash-Up Montage, a gag reel, and a digital copy of the film.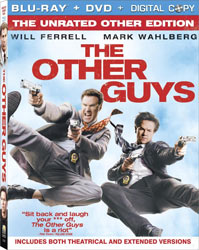 THE OTHER GUYS
(Blu-ray available as single-disc and Blu-ray + DVD Combo Pack)
There are two basic types of comedies: those where the humor is driven by the characters and narrative, and those where the characters and narrative are driven by the humor. The Other Guys, like most Will Ferrell films, is the latter. And that's fine. But it sure makes reviewing the film feel kind of pointless. This is a movie that's only goal is to make you laugh, and whether or not it achieves that depends entirely on the person watching the film. To me, it was mildly diverting, but not something I'd ever be interested in watching again. Compared to Step Brothers, another recent absurdist Will Ferrell comedy (with even less of a plot than this one), I just didn't find the movie nearly as funny as it was trying to be. My biggest problem with it is that there didn't seem to be a single 'straight man' character in the film. The movie charges along with non-stop punchlines and nonsequitur gags, but there's not a single believable, non-goofy character to play off of and balance it out. Also, there's a lot of shouting. Like, way more than there reasonably should be in a movie. (Yes, even in a movie starring Will Ferrell.)
Available on Blu-ray? Yes.
Notable Extras: DVD – 2 featurettes ("Crash and Burn!", "Bed Bath and Way Beyond"). Blu-ray – Includes everything on the DVD, as well as a Line-O-Rama, deleted & extended scenes, a "Pimps Don't Cry" music video, and more ("The "Mom"-mentary", "Alternate Action", "Why Are There Brits In This Movie?", "Rob Riggle Likes To Party", "We Shouldn't Kiss Chicken", "Mark Wahlberg's Eating Contest Entourage", "Bed Bath and Way Beyond", "Extreme Close Up", "Everyone Hates The DVD Guy").
*Does not include 2-Disc Edition, which costs $22.99 at Target, Fry's and Amazon, and $24.99 at Best Buy.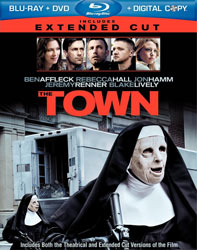 THE TOWN
(Releases on Friday, December 17)
The Town is not as strong an effort as Gone Baby Gone, but Ben Affleck once again proves himself a highly capable director, bringing to the picture many of the same qualities that made that film great. There's an impressive sense of authenticity to it, and he takes what's otherwise a very typical, audience-friendly bank heist flick and turns it into a low-key character piece. Of course, that might mean more if the characters had complexity to them beyond their surface-level morality, but that's something that only becomes apparent once the film is over. While actually watching the film, its narrative simplicity and adherence to formula didn't bother me, because in spite of the story following the tropes of every bank heist film has come before it, the acting is of such a high caliber—and the filmmaking so effective—that I never felt the need to question the predictability of it all. I was just happy to go along for the ride.
Available on Blu-ray? Yes.
Notable Extras: DVD – An audio commentary by director Ben Affleck, and Focus Points from "Ben's Boston" ("The Real People of the Town", "Ben Affleck: Director & Actor"). Blu-ray – Includes everything on the DVD, as well as an extended cut of the film, 3 additional focus points ("The Cathedral of Boston", "Pulling Off the Perfect Heist", "The Town"), and a digital copy of the film.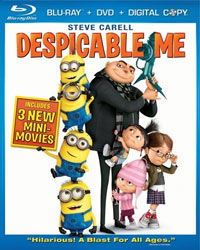 DESPICABLE ME
What impressed me most about Despicable Me when I saw it in theaters was the 3D, and that's obviously something most viewers will have to go without if they wish to watch the film on home video. Without that visual experience, I find it harder to recommend the film. It's a heavily gag-driven kid's film that also tries to have a heart, but the gags are only sporadically amusing and any attempt to be heartfelt feels forced. From an animation standpoint though, the movie is fantastic. The gags that do land do so largely because the character animation and visual timing make them funnier than they actually should be. This is most evident with the minions, who have been featured prominently in the film's marketing. As dialogue-free characters who operate purely on a visual level, they showcase the best of what the film has to offer.
Available on Blu-ray? Yes.
Notable Extras: DVD – Commentary with directors Chris Renaud and Pierre Coffin, 3 featurettes ("The World of Despicable Me", "Despicable Beats", "A Global Effort"), and a Gru's Rocket Builder game. Blu-ray – Includes everything on the DVD, as well as 3 all-new mini-movies ("Home Makeover", "Orientation Day" and "Banana"), a Voices of Despicable Me featurette, a Super Silly Fun Land game, and a digital copy of the film.
EXCLUSIVE DEAL:
What? Blu-ray combo pack with Movie Mode edition, which translates every word the minions are saying.
Where? Best Buy.
EXCLUSIVE DEAL:
What? Blu-ray combo pack with wearable goggles.
Where? Target.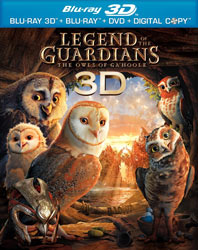 LEGEND OF THE GUARDIANS: THE OWLS OF GA'HOOLE
(Releases on Friday, December 17)
I don't like this movie because it's pretty. I like it because it's so pretty, I ended up becoming exhausted halfway through the movie because I grew tired of staring at the screen in awe. Were it not for the plot and characters—the former of which is derivative of countless other sword and sorcery tales before it, and the latter of which are not terribly interesting on any level—I would probably love it, but alas, those things take a back seat to the movie's stunning imagery. Narratively, the film basically condenses the entire original Star Wars trilogy into a single rushed storyline. It's more or less a heavily speed-ramped version of the hero's journey. But with owls.
Available on Blu-ray? Yes.
Notable Extras: DVD – A True Guardians of the Earth feature, and a Looney Tunes Short "Fur of Flying". Blu-ray – Includes everything on the DVD, as well as interactive challenges ("Armor Up with Soren & Eglantine", "Match the Owl Treats", "Rise of the Guardians"), 4 artwork galleries ("The Guardians", "The Locations", "The Villains", "Soren & Friends"), a "To the Sky" Music Video by Owl City, and a digital copy of the film.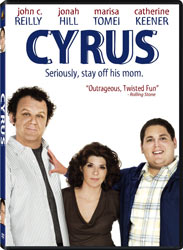 CYRUS
Cyrus is the first film that has attempted to bridge the gap between mumblecore and mainstream cinema, bringing in the talents of John C. Reilly, Jonah Hill, Marisa Tomei and Catherine Keener to tell a story that's otherwise exactly what we've come to expect from mumblecore films. It's all about exploring—with almost no mind paid to the technical side of things—the very real, raw relationships of these characters, and letting those relationships develop as organically as possible. It never goes too far out of its way for a joke, which might make those expecting a straight-up comedy feel cheated, but as a character-oriented dramedy, it's solid.
Available on Blu-ray? Yes.
Notable Extras: DVD & Blu-ray – 2 alternate scenes ("Cyrus at Party", "Puppet Movie").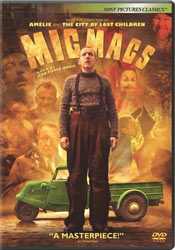 MICMACS
The original French title for Micmacs translates to "non-stop shenanigans", and the film more than delivers on that promise. If you're familiar with the work of Jean-Pierre Jeunet, the director of Amelie, the movie could just as well serve as a highlight reel of every wonderful visual trick and character quirk he's capable of, sans the narrative drive and strong character work that might actually allow you to become emotionally engaged in such things. But hey, at least it's fun.
Available on Blu-ray? Yes.
Notable Extras: DVD & Blu-ray – A commentary with Director Jean-Pierre Jeunet, a Making of Micmacs featurette, a Q&A with Director Jean-Pierre Jeunet and Actress Julie Ferrier, and an Animations: Absurd Deaths feature.
Other noteworthy DVD (and Blu-ray) releases this week...
Mother and Child [DVD / Blu-ray] – Nanny McPhee Returns [DVD / Blu-ray] – Joan Rivers: A Piece of Work [DVD / Blu-ray] – 24 (Season 8) [DVD / Blu-ray] – The IT Crowd (Season 4) – The Trotsky
Noteworthy Blu-ray-specific releases this week...
Hard Boiled – Vampire Circus – True Grit

NOTES: Some deals may vary by store. Some deals may be in-store only. All deals are for DVDs unless otherwise noted.

$9.99 – Blu-ray sale: The Dark Knight, The Lost Boys, Taken, Crank 2, Interview with the Vampire, Office Space, Transporter 3