Miranda July's 'The Future': Photos, Plot Synopsis, Jon Brion Composing, Premiere At Sundance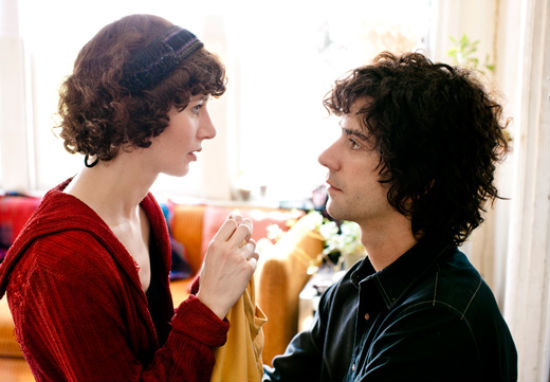 UPDATE: The Future will indeed premiere at the 2011 Sundance Film Festival as an out-of-competition premiere. Original article follows.
When we last left Miranda July, she gave us this: ))((. It's one of the lasting jokes, very sexual in nature, from her 2005 tour de force Me and You and Everyone We Know. The talented filmmaker hasn't directed a feature since (though she has continued to write, make shorts and art installations) but now there's a whole bunch of information out there on her latest film The Future. First of all, the film will be distributed by The Match Factory, which has posted a detailed synopsis, composer Jon Brion will be writing the music for the film and there's a chance that it will playing at the 2011 Sundance Film Festival.
So what's The Future about exactly? Well, in typical Miranda July fashion, it's out there and has a talking cat. Read about it after the jump.
Thanks to our pals at Gordon and the Whale for the heads up on this. Here's the synopsis of The Future from the Match Factory website.
Sophie (Miranda July) and Jason (Hamish Linklater) are a thirty something couple who have hit a bit of a brick wall in their lives. They live by themselves in a one-bedroom apartment and spend a vast amount of time online. They make a decision to adopt a terminally ill cat named Paw Paw. Like a newborn baby, he'll need around-the-clock care. Despite their good intentions, Sophie and Jason are terrified of the responsibility and the looming loss of freedom, so with just one month left, before they are due to collect the cat, they decide to quit their jobs to pursue their dreams. Sophie wants to make a dance, and Jason wants to throw his life open to the profound excitement of chance — on a whim he volunteers to be a door-todoor canvasser. As the month slips by, Sophie becomes increasingly immobilised, unable to make even the slightest progress with her dance, and in a moment of desperation, she begins an affair with someone she barely knows, Marshall (David Warshofsky) – a tough, square, fifty-year old man she met briefly at the animal shelter. Using elements of magical realism – a talking cat who narrates his own sad tale, a living tee-shirt, and strangely familiar Moon – the film bravely creates its own particular universe. With pathos and humour, it invites us to share the bitter sweetness of this moment in the lives of this young couple.
The Playlist then noticed that Brion (who also scored Eternal Sunshine of the Spotless Mind and Magnolia, among others) was listed as the composer. And though several pages are reporting that the film will be playing at Sundance in July, the same Playlist article inquired with the July who said "that's not official." So, if anything, maybe it's one of the secret screenings.
Finally, thanks to Ion Cinema, we have these two photos from The Future. Miranda July is such a unique and wonderful voice in the art community and here's hoping this film holds a candle to her last one.