Confirmed: Jon Favreau Will Not Direct 'Iron Man 3'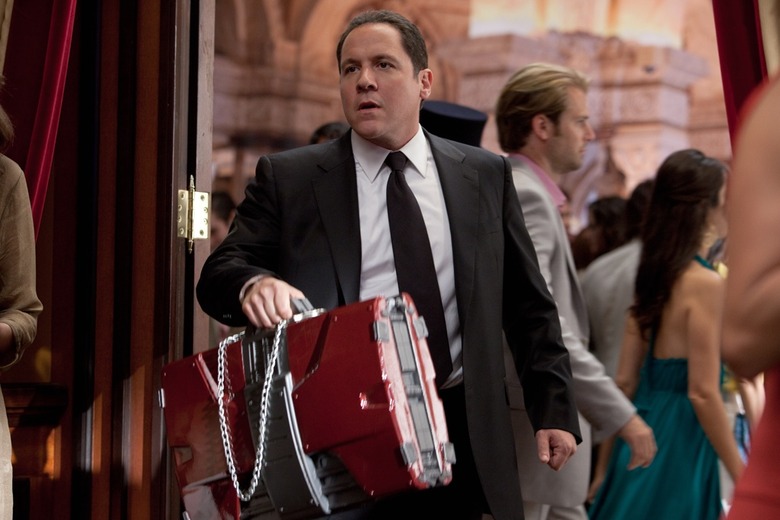 Update: Deadline has confirmed that Favreau will not direct Iron Man 3. Favreau even confirmed this on Twitter: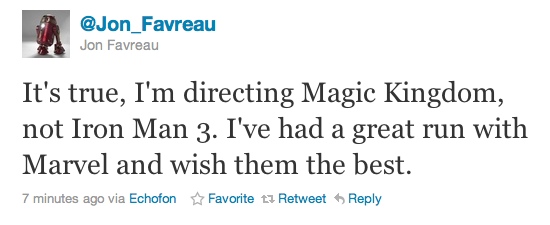 Original post follows:
Once Jon Favreau gets back from the Magic Kingdom, he reportedly won't be returning to Stark Industries. Rumors are coming in that Favreau has informed Marvel he will not be returning to direct Iron Man 3. And while no one from Marvel has yet to confirm or deny this report, a recent interview Favreau did seemed to suggest he was wavering. Read that and more after the jump.
Vulture first reported the news of Favreau's apparently departure from the Iron Man franchise. He spoke about the third film at length just last week and you can read our report here. The video, from MTV, is below and in it, you'll hear Favreau talking about his uncertainty concerning Iron Man 3.
If you don't want to read our link or watch the video, here's the most telling quote.
Kevin Feige, who's been involved with superhero movies with Marvel movies since the X-Men films, is very aware of his path and how to weave [things together], so in theory, 'Iron Man 3? is going to be a sequel or continuation of 'Thor,' 'Hulk,' 'Captain America' and 'Avengers'... This whole world... I have no idea what it is. I don't think they do either, from conversations I've had with those guys.
He does, however, say he wants to work with Marvel again and since Disney now owns Marvel, he's still working under the same corporate umbrella with Magic Kingdom.
The Vulture article poses a non-creative impasse however: The almighty dollar. Since Favreau has a slew of hits under his belt now and another one probably coming next Summer with Cowboys & Aliens, his asking price for Iron Man 3 is sure to be significant. And, in the industry, Marvel has a reputation for being frugal.
Maybe the combination of both those factors lead him to just get the whole thing out of the way well in advance of the May 3, 2013 release date. This way Marvel can start looking for a new director who'll have time to work with Feige and Joss Whedon on The Avengers and figure out exactly how everything is going to play out in Iron Man 3.
Will you still line up for a non-Favreau Iron Man 3? Do you think that his departure might be good for the franchise or is it a sign that the wheels are coming off at Marvel?