Eminem To Brawl In 'Southpaw' From 'Sons Of Anarchy' Creator Kurt Sutter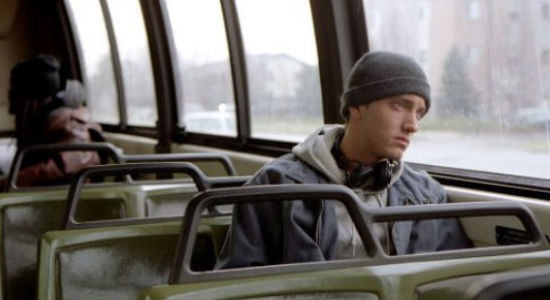 Sons of Anarchy creator Kurt Sutter has just sold a pitch to DreamWorks called Southpaw, which has Marshall "Eminem" Mathers attached to star. Eminem will play a left handed, world champion boxer whose life is crushed by a major tragedy and has to fight his way back to the top. Sutter is currently writing and will have a draft of the screenplay done by February, when he'll start working on the next season of his show. Read more about what drew Sutter to the project, his relationship to Eminem and more after the jump.
Deadline broke the news of this deal, which materialized Monday. DreamWorks got the first shot at the pitch because current executive Stacey Snyder helped champion Eminem's film 8 Mile when she was at Universal. And while Eminem isn't a boxer in real life, the film is going to be largely inspired by his real life.
Here's what Sutter told Deadline about the project.
I took meetings with Marshall's producing partners over the past 7 years, looking for something to do together. I know he's very selective and doesn't do a lot. But he shared so much of his personal struggle in this raw and very honest album, one that I connected with on a lot of levels. He is very interested in the boxing genre, and it seemed like an apt metaphor, because his own life has been a brawl. In a way, this is a continuation of the 8 Mile story, but rather than a literal biography, we are doing a metaphorical narrative of the second chapter of his life. He'll play a world champion boxer who really hits a hard bottom, and has to fight to win back his life for his young daughter. At its core, this is a retelling of his struggles over the last five years of his life, using the boxing analogy. I love that the title refers to Marshall being a lefty, which is to boxing what a white rapper is to hip hop; dangerous, unwanted and completely unorthodox. It's a much harder road for a southpaw than a right handed boxer.
I'm a huge fan of 8 Mile and think Eminem, playing a version of himself, is very solid in it. Much of that film's success, though, was because of its Oscar winning song "Lose Yourself" as well as the direction of Curtis Hanson. Though Southpaw doesn't necessarily need another multi-platinum hit song to sell it, the director is incredibly key. If it all works out, we might have another Fighter on our hands.
What do you think about Sutter's vision for this film? Do you believe people will still flock to an Eminem movie?