Official Plot Synopsis For Steven Spielberg's 'War Horse'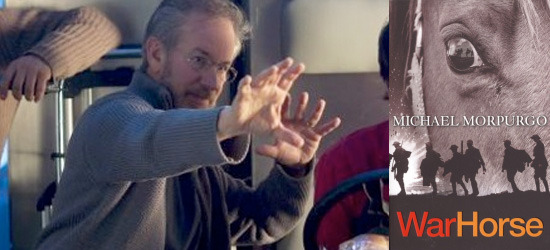 While the 2010 Holiday Movie season has been a little lackluster, 2011 is looking amazing. Sure this year we get a sequel to TRON and a new film by the Coen Brothers but next December alone we get new films from Martin Scorsese, Cameron Crowe, Brad Bird, David Fincher, Guy Ritchie as well as two new films by Steven Spielberg.
Slowly but surely, we're learning more about each of those projects and today we've got a minor update on Spielberg's live action Oscar contender, War Horse. Set for release on December 28, just five days after Spielberg's The Adventures of Tintin: The Secret of the Unicorn, War Horse stars David Thewlis, Emily Watson and others and is based on a novel by Michael Morpurgo. It's probably a safe bet that most of us haven't read that book, so definitely check out the official plot description of the film after the jump.
Thanks to Collider for the heads up on this plot description.
From director Steven Spielberg comes "War Horse," an epic adventure for audiences of all ages. Set against a sweeping canvas of rural England and Europe during the First World War, "War Horse" begins with the remarkable friendship between a horse named Joey and a young man called Albert, who tames and trains him. When they are forcefully parted, the film follows the extraordinary journey of the horse as he moves through the war, changing and inspiring the lives of all those he meets—British cavalry, German soldiers, and a French farmer and his granddaughter—before the story reaches its emotional climax in the heart of No Man's Land.
The First World War is experienced through the journey of this horse—an odyssey of joy and sorrow, passionate friendship and high adventure. "War Horse" is one of the great stories of friendship and war—a successful book, it was turned into a hugely successful international theatrical hit that is arriving on Broadway next year. It now comes to screen in an epic adaptation by one of the great directors in film history.
Since the war is "experienced through the journey of this horse," am I the only one who gets a clear mental image of Mr. Ed?
In all seriousness though, Spielberg's last two war movies – Schindler's List and Saving Private Ryan – both seemed to follow similar paths as War Horse. Each told the larger story of war by focusing on how one person, or a small group, can affect those around them. This time, that person is a horse. Both of those films are classics and, though Spielberg hasn't had a home run in a while, it seems like this could be one.
Are you more excited for this or Tintin? And has anyone read War Horse? What can you tell us about it?