Snow White Casting Rumors: Charlize Theron And Julia Roberts As Rival Evil Queens; A Relative Unknown For Snow White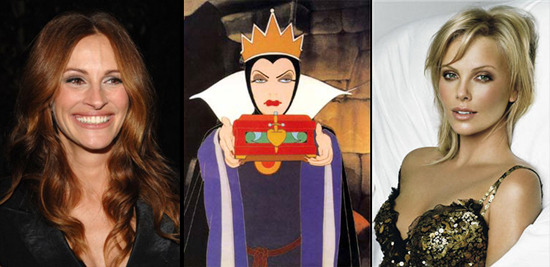 The effort to get a new Snow White film into production could be on the verge of becoming a breakneck race between Relativity Media and Universal Pictures. Universal has Snow White and the Huntsman in development, to be directed by Rupert Sanders, while Relativity has The Brothers Grimm: Snow White, to be directed by Tarsem.
The films will likely end up being very different despite the common source. (And assuming one doesn't put the other out of business, as each outfit hopes.) Expect character-based action, Pirates of the Caribbean style, out of Snow White and the Huntsman, while the Brothers Grimm picture could be a bit darker and more unusual.
But both films have two things in common: they need a Snow White, and an Evil Queen. Charlize Theron and Julia Roberts are rumored to be the key players for the evil queen in the two films, with Charlize Theron being a more reliable bet right now, and Universal may go with a relative unknown for its Snow White.
To start off with, take the whole wooing/shortlist stories with a degree of caution, as we've seen in the past few weeks. That said, Deadline says that Relativity wants Julia Roberts for the Tarsem-directed The Brothers Grimm: Snow White. No doubt the studio also has a great many other names on a list, so don't assume anyone is cast just yet. Reached for confirmation, Relativity had no comment on the rumor.
Universal, on the other hand, seems to be a bit further along, and is negotiating with Charlize Theron to be the Evil Queen in Snow White and the Huntsman. (As rumored in the past.) But she's also talking to Warner Bros. about Clint Eastwood's J. Edgar, and given that Universal is looking at competition from Relativity and the Hoover picture plans to shoot early next year, a choice likely has to be made.
Meanwhile, Deadline and THR both agree that Michael Fassbender is now the frontrunner to play the titular Huntsman in Universal's film. What about Tom Hardy, who had been rumored? You might want to look to the John Hillcoat film The Wettest County in the World, which has Hardy set to appear and shoots early next year, and then there's the actor's little commitment to Christopher Nolan and The Dark Knight Rises.
Finally, there's the question of a Snow White for Universal's film. THR reports that four actresses will test over the next few days to find the actress that will work alongside Michael Fassbender (or whichever actor is cast) in the bulk of Snow White and the Huntsman.
They names mentioned are: Riley Keough (The Runaways, Jack & Diane); Felicity Jones (The Tempest); Bella Heathcoat (Neighbours); and Alicia Vikander. We'll update more when someone is cast — and that someone could be an entirely different name from these. Kristen Stewart, Dakota Fanning and Saoirse Ronan are all mentioned as more established actresses to whom the studio has made overtures.
So, the rumor report card as we have it:
The Brothers Grimm: Snow White
Relativity Media
Director: Tarsem
Cast (rumored): Julia Roberts (the Evil Queen)
Snow White and the Huntsman
Universal Pictures
Director: Rupert Sanders
Cast (Rumored): Charlize Theron (the Evil Queen); Michael Fassbender (the Hunstman); Riley Keough, Felicity Jones, Bella Heathcoat and Alicia Vikander (competing for Snow White)