'The Social Network' Wins Boston, Los Angeles, New York Film Critics Awards And More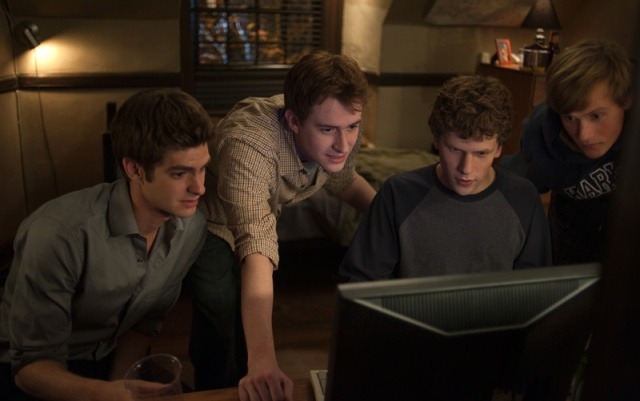 Much like the website it's based on, The Social Network is turning into a juggernaut. David Fincher's film about the rise of Facebook is beginning to gain serious award season momentum as it picked up Best Picture awards from the Boston, Los Angeles, New York, New York Online, Southeastern and Indiana Film Critics' Associations as well as being named one of the top films by the American Film Institute along with the Houston, St. Louis and Broadcast Film Critics' Associations.
If this domination continues though the Golden Globe nominations on Tuesday and Screen Actors Guild nominations on Thursday, The Social Network may be considered an almost insurmountable front runner in the race toward the Best Picture Oscar.
Not only is the film itself winning the big award from these Critics' Associations, other people from The Social Network are doing quite well for themselves too. David Fincher won top directing honors from the New York, Boston, Los Angeles, Southeastern and New York Online Critics. Aaron Sorkin got the Best Screenplay award from the Boston and Los Angeles critics and leading man Jesse Eisenberg won best actor from the Boston critics. Plus the score by Trent Reznor and Atticus Ross took home awards from the Boston and Los Angeles critics.
The Social Network is winning so many awards that it's leaving many of the other award hopefuls in the dust. The King's Speech, The Fighter and The Kids Are All Right are probably on the next tier, consistently winning an award or two for themselves, then there's another huge drop off and films like Black Swan, 127 Hours and True Grit are each grabbing something here and there. But really, there's no contest as of now. Still, with a few months to go before the big Oscar day and plenty of major awards still to be handed out, there's a chance The Social Network could be peaking too early.
When The Social Network was released in October, did you have any idea it would be so huge come awards season? Why do you think it's having such a strong showing?
Source: Awards Daily