How 'Community' Saved Christmas: A Love Note To One Of The Best Shows On Television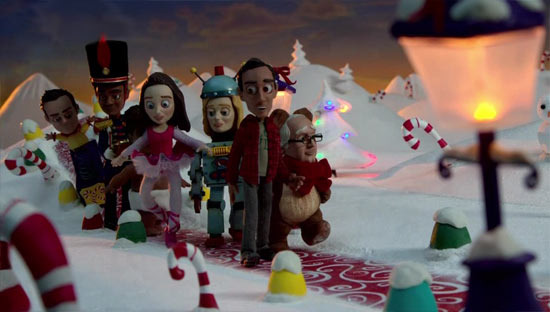 Here's some music to enjoy while reading this article. You know, for ambiance! (Note: This isn't just a ploy to get you to listen to songs from the Community soundtrack. Honest.)
There's a kind of demented brilliance to Community. It's something I've been accepting of since early in the show's incarnation, but it wasn't until the series' wonderfully inventive, borderline disturbing, ultimately heartwarming stop-motion Christmas special—entitled Abed's Uncontrollable Christmas—that I found myself capable of fully elucidating why that is. And I'm not just saying that because it delivered the ultimate burn on Lost.
(Haven't yet had a chance to see the episode? Watch it on Hulu, or embedded after the break.)
In a sense, Community operates on two levels. (Well, in another sense, Community operates on dozens of levels, depending on what genre sensibilities it's adopting during any given episode, but bear with me.)
On the first level, Jeff Winger is the protagonist of the show. He cheated through life one two many times, landed at a community college, and has since learned to—however half-heartedly—take solace in the study group he had initially formed as a ploy to get a hot girl to sleep with him.
Among the members of this study group is Abed, a young adult with Asperger's syndrome who envisions his life as being part of a TV sitcom, yet has been accepted by his peers as a weird kid who processes reality through TV.
Then there's another level—a meta subtext level—where Abed is actually right. He is unequivocally, 100% right. Despite the casual disregard by the rest of the group of his TV and film insights, he has never failed to recognize the formula-driven happenings of the narrative. This is all a TV show, and he is the only one in tune with what we as an audience are experiencing, which in a grander sense makes him the main character of the show.
This means one of two things: either Community is a fantasy series in which Abed is an omniscient force who is acutely aware that his life and the lives of those around him are part of the show that we are watching, or Abed is a seriously fucked up individual, and every single episode of the show is representative of how he perceives his role in the world—as a supporting character in a sitcom starring Jeff Winger—making it a darkly disturbing series that's only a comedy because that's how Abed has chosen to process his college experience.
Ok, it doesn't actually mean either of those things, but the fact that the show is able to operate in such an abstract meta-referential fashion and not generate blank stares of confusion from its audience is a telling sign of the times we live in. I previously wrote a passionate article where I happily embraced this stylistic evolution in cinema, but Community is a very specific example of just why I'm so eager to do so. It's a TV series that knows exactly what it is and isn't afraid to show it, but at the same time, it refrains from letting its self-awareness reduce the program to a series of snarky pop culture references. While the subversion and winking acknowledgment of the medium's tropes have kept its formula fresh and amusing, it's really the show's unbridled sense of fun and under-the-surface heart that keep me returning every week.
Nothing demonstrates this better than Community's Christmas special, an episode which found those two aforementioned levels colliding at full force.
Though the show has occasionally touched on Abed's inability to function normally in society, it mostly avoids confronting the issue, comfortable instead to let his deadpan commentary on the happenings of the plot overshadow his apparent autism. That changed with Abed's Uncontrollable Christmas, Community's stop-motion tribute to Rankin-Bass' seasonal television specials. The show didn't just turn to stop-motion animation as an amusing gimmick so they could check off another beloved subgenre as having been parodied. Instead, creator Dan Harmon looked at his on-the-money animated homage as an opportunity to shed some light on the underlying sadness of Abed's condition, and in doing so was also able to illustrate the true value of the holidays. There is no definitive "meaning of Christmas"; it isn't some rigid set of traditions that we should blindly adhere to, simply because that's the image that's been presented to us in countless commercials and Christmas movies. Christmas can mean whatever you want it to mean, and for Abed, it means sharing it with his friends.
What's truly genius though is that, for all the episode's teary moments, it still manages to simultaneously function as an endlessly reverent parody that never feels overly calculated. Or rather, its calculated nature comes as a natural result of the character responsible for conjuring the world, since Abed's familiarity with all things film and TV related is what causes the narrative to harken back to Christmas specials in such a direct, enthusiastic manner. Because of this, the episode ends up becoming a genuinely impressive Christmas special in its own right. Everything from the visuals to the music to the sound design are executed spectacularly, turning gags like Abed's rendition of the Community opening theme into moments that are—despite the reality being rather sad and disturbing—undeniably joyous and exciting. Even as the real world circumstances are continually acknowledged, the show doesn't hesitate to thrust you into the journey right alongside Abed, complete with ominously scored multidimensional space travel and thrilling train chases. And truthfully, anything less would've been inconsistent with his character and destroyed the illusion. After all, we're seeing the grand scale adventure that Abed is creating in his mind, so it only makes sense that we'd get to experience it as just that.
None of this would've been possible were it not for the creation of the character of Abed. While all of the characters add to the comedic dynamic of the show in their own way, only Abed (and, on occasion, Troy) transcend the dynamic to allow for a greater metatextual awareness.
Again though, the clever way in which these characters are frequently thrust into alternating genre scenarios is only one aspect of what makes Community such a charming, lovable show. Abed's Uncontrollable Christmas illustrated that beautifully, bringing a touching, thoughtful poignancy to an episode that could have just as easily gotten by on its fantastical surrealism and delightful musical cues. And that, ultimately, is why I love the show. Every so often, it will break out these brief, smartly devised moments of emotional honesty that help to humanize these otherwise cartoonish—and in the case of Abed, reality-defying—figures, keeping them believable and endearing from episode to episode, regardless of the genre trope parodies that surround them. Episodes like these that elevate Community from simply being a hilarious media satire variety hour to a consistently rewarding series about characters we love and want to see grow and find happiness.
I've seen a lot of sitcoms try to combine laughs and heart, but rarely do they pull off the combination quite so successfully. Nor, should I add, do they feature a Christmas Pterodactyl.
Just something to consider.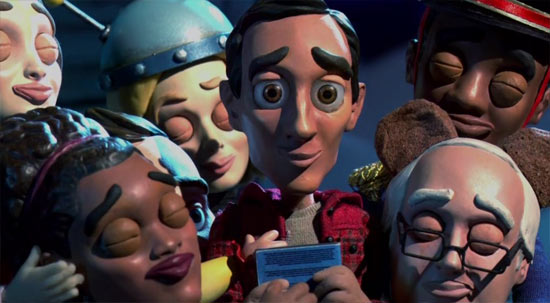 You can watch the full episode of Abed's Uncontrollable Christmas below.