'X-Men: First Class' Official Plot Synopsis Revealed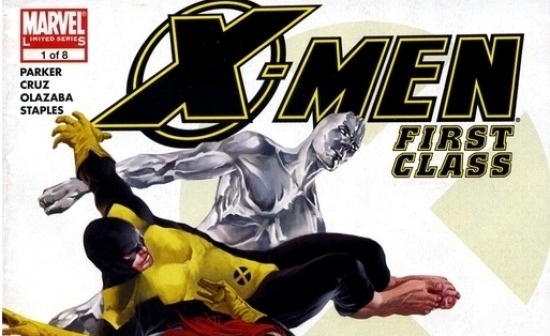 Like most huge superhero movies, we've been digesting bits and pieces of information about X-Men First Class for some time now. The most recent instance was a series of spy photos that could have potentially spoiled one of the bigger action set pieces director Matthew Vaughn has up his sleeve. Producer Bryan Singer has also provided several nuggets of information about the film in recent months. Now, finally, 20th Century Fox has revealed the first official plot synopsis and it has some brand, spanking new info. We think.
X-Men First Class stars James McAvoy, Michael Fassbender, Rose Byrne, January Jones, and Kevin Bacon and will be released June 3. Read the plot synopsis after the break.
Thanks to Screenrant for the heads up. Here's the official plot plot synopsis.
X-Men: First Class charts the epic beginning of the X-Men saga, and reveals a secret history of famous global events. Before mutants had revealed themselves to the world, and before Charles Xavier and Erik Lensherr took the names Professor X and Magneto, they were two young men discovering their powers for the first time. Not archenemies, they were instead at first the closest of friends, working together with other Mutants (some familiar, some new), to stop Armageddon. In the process, a grave rift between them opened, which began the eternal war between Magneto's Brotherhood and Professor X's X-Men.
The Screenrant article seems to be sure that "to stop Armageddon" means the X-Men character Armageddon and not "Armageddon" as in the end of the world. (They didn't even consider that it could mean "Armageddon" as in the Michael Bay film, and that X-Men First Class was all about stopping a movie from going into production. Shame on them.)
Actually, I think the end of the world "Armageddon" makes much more sense than the character for a few reasons: 1) Armageddon was partially created by Jean Grey, who is not in the movie, 2) The plot synopsis refers to Professor X and Magneto as men and mutants but it never refers to Armageddon as either, 3) The movie reveals a "secret history of famous global events," which sounds in line with an apocalyptic storyline, and 4) Doesn't it make more sense for the mutants to fight to save the end of the world – from anything – instead of an obscure mutant whose back story doesn't fit into the world they're creating?
What is your reading of the plot synopsis?