James Franco Currently Shooting 'Maladies,' Options Sal Mineo Biography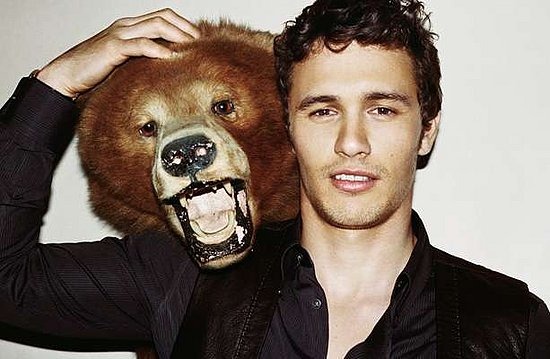 James Franco is one busy guy. 127 Hours is in theaters, he's shot parts in films like Your Highness, he's prepping to go back to do another stint on General Hospital, he's been optioning several books as possible film projects, and now he's shooting another movie, called Maladies. The latter co-stars Alan Cumming, Claire Danes, Catherine Keener and is directed by the artist Carter, who made the short film Erased James Franco.
More details on Maladies, plus news of James Franco's possible Sal Mineo biopic, after the break.
Talk of Maladies cropped up in very early form a few months ago when Carter talked about James Franco's work on General Hospital. He talked about that as raw material for another project:
...it's tied to another film that he and I are working on now. It's not specifically for another project, because I know that he's really enjoying the challenge of working on a soap — it's a very taxing job, and an interesting thing for him to be doing — but it does have to do with another film that he and I are working on.
And now THR reports that Carter is currently directing Maladies, which is about " a successful actor who retires at a young age due to what is believed to be a mental illness."
Mr. Cumming said,
[Maladies] is really fascinating, directed by this guy Carter who is the artist that James [Franco] has been collaborating with... I'm just doing a little part ... and just for Christmas.
And then there's Sal Mineo, who co-starred in Rebel Without a Cause with James Dean, who James Franco has already played on screen. And now (per THR) Franco has optioned new biography Sal Mineo: A Biography, written by Michael Gregg Michaud, reportedly with the intent to write and direct a film based on the book and actor. He wouldn't star, at least as things stand now.
The book deals with Sal Mineo's rise to fame, his early Oscar nomination (he was the youngest-ever Best Supporting Actor nominee) his friendships with other young Hollywood figures, and his 'conflicted sexuality.' And then, of course, his 1976 death at the hands of a pizza deliveryman.
So this joins the growing list of Franco-optioned properties, which already includes the memoirs Holy Land and The Adderall Diaries, both of which were also pegged as writing and directing projects. I'd be tempted to say he can't do them all, but given the amount of work we've seen out of the actor this year, that might be a mistake.