POTD: Seth Rogen, Elijah Wood And Danny McBride As The Beastie Boys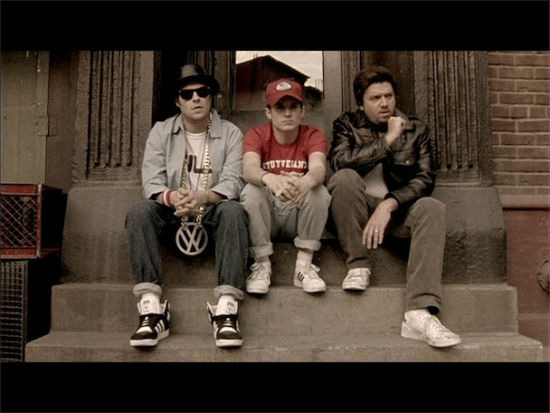 How much would you pay to see Elijah Wood, Danny McBride, Seth Rogen, Will Ferrell, John C. Reilly and Jack Black all in one movie? If you said anything under the cost of a trip to Utah, you're out of luck. They make up the cast of one of the most highly anticipated shorts playing at the 2011 Sundance Film Festival. It's called Fight For Your Right Revisited and it's written and directed by Adam Yauch, aka MCA of the legendary Beastie Boys. He's assembled quite the cast to tell the story of what happens after the epic party in their classic 1987 music video for '(You Gotta) Fight For Your Right (To Party)'.
We told you about it on Monday and now we've got your first look at three of the stars – Rogen, Wood and McBride – as The Beastie Boys: Mike D, Ad-Rock, and MCA. Read more about the short after the jump.
Here's the official description of the short from the Sundance press release.
Fight For Your Right Revisited (Director and Screenwriter: Adam Yauch) – After the boys leave the party... Cast: Elijah Wood, Danny McBride, Seth Rogen, Will Ferrell, John C. Reilly, Jack Black.
With such a high profile cast, chances are they film will pop up online sometime after it's premiere at Sundance. But it's going to be very difficult for Yauch to top the awesome music video that put the Beastie Boys on the map.
Even if you aren't a big Beastie Boys or music fan, there's no denying that the seminal rap groups has had a profound effect on film as well as hip-hop and music videos. It was the Beastie Boys that largely introduced the world to Spike Jonze with the award winning music video for Sabotage and, in 1998, they won the Video Vanguard award from MTV for their contributions to the medium of music videos. They even have their own Criteron Collection DVD. What other music group can say that?
I'm beyond excited for this short...and it's just a short. Am I alone?