Russell Brand To Play Dead In 'Rentaghost'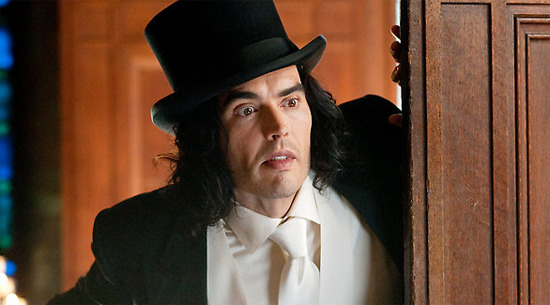 Call it Beetlejuice with a British twist. Warner Brothers has just acquired the rights to a late 1970s/early 1980s British television comedy called Rentaghost that they're developing as a vehicle for blossoming movie star Russell Brand. The movie is about a slacker named Fred Mumford who decides he wants to be more productive as a ghost than he was a person. So, he starts a business where ghosts can be rented out to the living. Producers are currently out to writers. Read more after the break.
Deadline broke the news about the show's purchase. What's odd is that Rentaghost, which ran for nine "series'" from January 1976 though June 1984, was originally marketed towards families. As created by Bob Block, the show was reportedly more silly than satirical and didn't exhibit the type of humor that Brand is branding himself with. Mainly, off color stuff such as the Arthur remake and Get Him To The Greek. Though, he also is the voice of the main character in the Easter family film Hop and co-stars in the Shakespeare adaptation The Tempest, so maybe the famously drunk comedian is looking to change his ways.
Whether or not Rentaghost is a PG comedy or R rated romp, the idea of ghosts for hire remains ingenious even if it will be hard to top the subversive brilliance that Tim Burton and Michael Keaton achieved in Beetlejuice, which certainly explored this premise to an extent.
Do you feel Brand has made himself into a marketable actor that can top line a comedy like this or is the jury out until the Arthur remake hits? Also, has anyone one out there actually seen Rentaghost? Can you enlighten us with some of your thoughts in the comments, please?