Armie Hammer And Charlize Theron In Talks For Clint Eastwood's 'J. Edgar,' Formerly Called 'Hoover'
Clint Eastwood's biopic about original FBI director J. Edgar Hoover, written by Dustin Lance Black and set to star Leonardo DiCaprio in the title role, is preparing to add a new actor for a significant role. Armie Hammer from The Social Network is in talks to play Clyde Tolson, Hoover's second in command and rumored lover.
And while we've been referring to the movie as Hoover, the title now being used is J. Edgar.
UPDATE: Vulture reports that Charlize Theron is also in talks to play Helen Gandy, who was hired as Hoover's personal secretary and worked for him for over 50 years.
EW reveals both the title change and the fact that Armie Hammer is in talks.
The real Clyde Tolson was a square-jawed, fairly good-looking guy, though he was a bit like Armie Hammer crossed with, say, a young Karl Malden. But Leonardo DiCaprio is a hell of a lot better looking than was J. Edgar Hoover, even in his prime. We don't know if one or both actors will use any prosthetics, or if they'll just have to act the part. Certainly the latter point, at least.
That's Hoover on the left and Tolson on the right, in a photo snapped in 1936.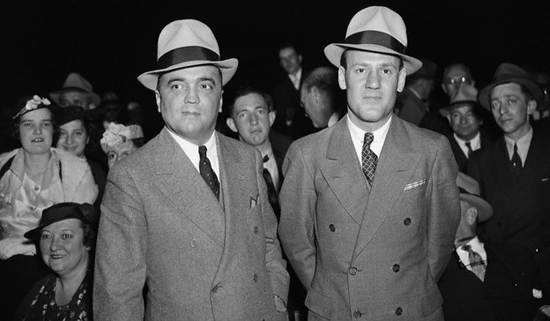 Hoover and Tolson had a close working relationship, sharing meals and vacationing together. That was part of the source of their rumored romantic relationship. Hoover left his estate to Tolson, further fueling speculation, despite the fact that other FBI agents claimed there was no basis to the homosexual rumors.