Seth MacFarlane's 'Teddy Bear' Details From Star Mark Wahlberg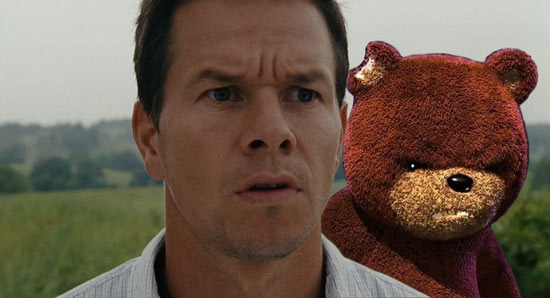 Family Guy creator Seth MacFarlane's first foray into movies might be coming sooner than you think, according to star Mark Wahlberg. The Fighter himself has been seemingly everywhere talking about upcoming projects, and he said that Teddy Bear, written and directed by MacFarlane, is going to start shooting early next year. Wahlberg stars as a man whose Christmas gift from the 1970s, a teddy bear, comes to life and achieves great fame. It's R-rated and the bear, voiced by MacFarlane, is going to be motion capture. Read all of Wahlberg's quotes and more after the jump.
Wahlberg revealed the details about Teddy Bear while speaking to MTV. Here are his quotes followed by a video.
I'm getting to go do a comedy and the beginning of this year with Seth MacFarlane — his directorial debut. Dude, I'm so excited. It's just off-the-charts funny.
I don't know how much [Seth] wants me to tell but it's about this kid who gets a bear for Christmas. And, you know, it's the '70s — it's one of those Teddy Ruxpin-ish teddy bears where you squeeze it and it says, 'I love you!' The kid wishes and dreams that the bear would come alive — and a Christmas wish must be granted — and it does [come alive].
Seth MacFarlane's voicing the bear — the bear is gonna look like a little teddy bear, but it's motion-capture. It's like 'Avatar.' It's never been done before. It's insane — I mean, what the bear does.... The bear becomes famous, and that's my ticket to getting things and living a life of privilege.
And if you just can't get enough of Marky Mark...watch him give those answers below.
Seth MacFarlane has a wicked sense of humor and a nasty slant on celebrity culture. Teddy Bear sounds like the perfect vehicle to showcase both of those on the big screen.
The question isn't "If," it's "how" excited are you for this film?