Release Date Schedule: Darren Aronofsky's 'Black Swan'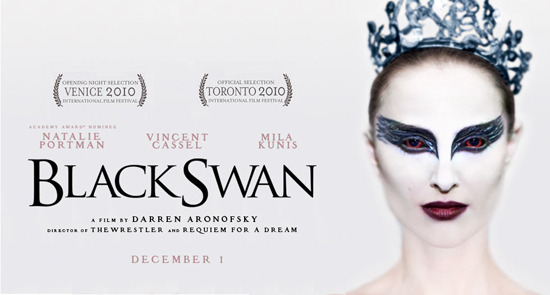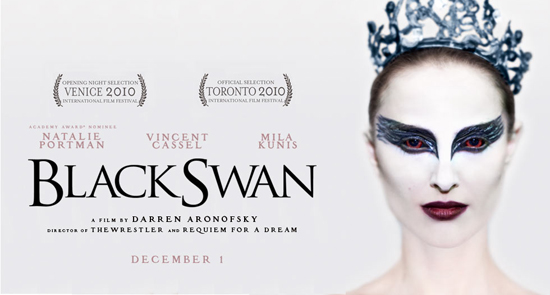 Darren Aronofsky's Black Swan was released in theaters last week in only 18 screens (making $210,000, a company record per-theater average of $11,706). But when are you going to get a chance to see the film for yourself? Fox Searchlight has released a listing of theaters and dates to assist you in figuring out when Black Swan will be playing at a theater near you. Hit the jump to see the list.
12/03/2010
TORONTO:
Varisty Theater Toronto, ON
BOSTON:
Boston Common & IMAX Boston, MA
Landmark Kendall Sq. Cinema Cambridge, MA
WASHINGTON, D.C.:
Georgetown 14 Washington, D.C.
Landmark Bethesda Rows Cinema Bethesda, MD
Landmark E Street Cinema Washington, D.C.
NEW YORK:
Clearview Chelsea Cinemas NYC, NY
Regal Union Sq. 14 Stadium NYC, NY
CHICAGO:
AMC River East 21 Chicago, IL
Regal Century 12 Evanston Evanston, IL
Century Centre Cinema 7 Chicago, IL
DALLAS/FT. WORTH:
Angelika/Plano Film Center Plano, TX
Landmark Magnollia Cinema Dallas, TX
LOS ANGELES:
The Landmark Los Angeles, CA
Pacific Arclight Hollywood Hollywood, CA
SAN FRANCISCO:
AMC Loews Metreon San Francisco, CA
12/10/2010
BOSTON:
Liberty Tree Mall 20 & IMAX Danvers, MA
West Newton Cinema W. Newton, MA
Coolidge Corner Brookline, MA
Showcase Cinema Deluxe Dedham, MA
WASHINGTON, D.C.
AMC Loews Shirlington Arlington, VA
AFI Silver Theater Silver Springs, MD
Fairfax Corner 14 Fairfax, VA
Tysons Corner 16 IMAX McLean, VA
NEW YORK:
AMC Empire 25 NYC, NY
Amc Kips Bay & Imax New York, NY
Amc Garden State 16 & Imax Paramus, NJ
Roosevelt Raceway Westbury, NY
Edgewater Multiplex Cinemas Edgewater, NJ
City Cinemas 1, 2 & 3 NYC, NY
City Center 15 Cinema De Lux White Plains, NY
Farmingdale 10 Farmingdale, NY
UA E. 85th St. New York, NY
PHILADELPHIA/NEW JERSEY:
Landmark Ritz 5 Philadelphia, PA
Regal Ritz Center 16 Voorhees, NJ
UA King Of Prussia 16 & IMA King of Prussia, PA
AMC Neshaminy 24 & IMAX Bensalem, PA
CHICAGO:
AMC South Barrington 30 South Barrington, IL
Landmark Renaissance Place Cinemas 5 Highland Park, IL
Regal Lincolnshire 20 Lincolnshire, IL
Regal Cantera 30 Warrneville, IL
Yorktown Cinema 17 Lombard, IL
Showplace Icon 16 Chicago, IL
DETROIT:
Landmark Main Art Royal Oak, MI
INDIANAPOLIS:
Landmark Keystone Art Cinema 7 Indianapolis, IN
Landmark Uptown Minneapolis, MN
ST. LOUIS:
Landmark Plaza Frontenac, MO
ATLANTA:
AMC Phipps Plaza Atlanta, GA
Landmark Midtown Cinema Atlanta, GA
AUSTIN:
Alamo/S. Lamar Cinema Austin, TX
Regal Arbor Cinemas at Great Hills Austin, TX
HOUSTON:
Regal Edwards Greenway Grand Palace Cinema Houston, TX
DENVER:
Landmark Mayan Theater Denver, CO
LOS ANGELES:
AMC Burbank 16 + IMAX & E Burbank, CA
AMC Santa Monica 7 Santa Monica, CA
Century 20 Huntington Beach Huntington Beach, CA
Pacific Arclight Beach Cities El Segundo, CA
Pacific Arclight Sherman Oaks Sherman Oaks, CA
PHOENIZ, AX:
Harkins Camelview Plaza Scottsdale, AZ
SAN DIEGO:
Landmark La Jolla Village 4 La Jolla, CA
Landmark Hillcrest Cinemas San Diego, CA
Flower HIll Cinema 4 Del Mar, CA
PORTLAND:
Regal Fox Tower Sadium Portland, OR
SEATTLE/TACOMA:
AMC Pacific Place Seattle, WA
Lincoln Sq. Cinema Bellevue, WA
Landmark Guild 45th Seattle, WA
SAN FRANCISCO:
Century Cinemas Mountain View, CA
CineArts @ Palo Alto Palo Alto, CA
CineArts @ Pleasant Hill Pleasant Hill, CA
CineArts @ Santana Row San Jose, CA
Century 20 Downtown + XD Redwood City, CA
Landmark California Berkeley, CA
MONTREAL, QC
Cinema Banque Scotia 12 Montreal, QC
TORONTO, ON
AMC Yonge & Dundas 24 Toronto, ON
SilverCity Mississauga Mississauga, ON
Grande at Sheppard North York, ON
VANCOUVER, BC
Scotiabank Theatre Vancouver Vancouver, BC
Fifth Avenue Cinemas Vancouver, BC
12/17/2010