Cate Blanchett Cast In 'The Hobbit;' More Supporting Cast Announced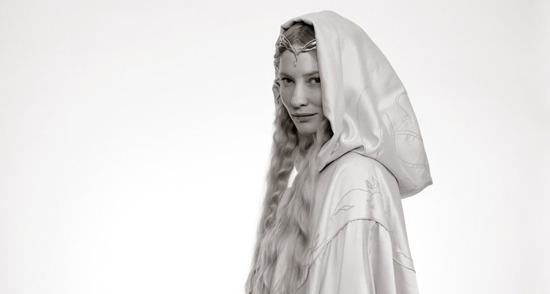 File this under 'expected:' Cate Blanchett, who played the elf Galadriel in The Lord of the Rings and provided the opening narration for The Fellowship of the Ring, has joined the cast of The Hobbit. She'll reprise the role of Galadriel in at least one of the two Hobbit films, though we don't know which, or if she'll be in both. In addition, more casting has been announced and/or confirmed, and the info is all after the break.
Fans of The Hobbit are probably asking how this could be expected, given that Galadriel isn't in the book.
But we've known that Peter Jackson, Fran Walsh, Philippa Boyens and Guillermo del Toro (who co-wrote before vacating the director's chair) would be including material from J.R.R. Tolkien's other supplemental tales of Middle Earth, and possibly reworking The Hobbit a bit to include a couple of established characters. And while it wouldn't make much sense to have Aragorn show up in The Hobbit, I can see making room for Galadriel. I would have been surprised if an attempt wasn't made to bring her in.
Peter Jackson tells Deadline, "Cate is one of my favorite actors to work with and I couldn't be more thrilled to have her reprise the role she so beautifully brought to life in the earlier films."
In addition, more of the Dwarf Company and a few other characters have been cast and/or confirmed:
Ken Stott (Charlie Wilson's War) is the Dwarf Lord Balin
Sylvester McCoy (Doctor Who) is the wizard Radagast the Brown
Mikael Persbrandt (Day and Night) is Beorn, an enormous shape-shifter who can take the form of a bear
Ryan Gage (Outlaw) is Drogo Baggins
Jed Brophy (The Lord of the Rings) is the dwarf Nori
William Kircher is the dwarf Bifur