This Week In DVD & Blu-Ray: Inception, Shrek Forever After, And More
This Week in DVD & Blu-ray is a column that compiles all the latest info regarding new DVD and Blu-ray releases, sales, and exclusive deals from stores including Target, Best Buy and Fry's.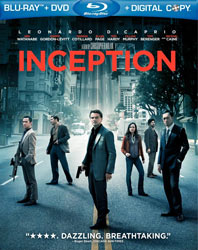 INCEPTION
Inception sets the bar for summer blockbusters. The film is a technical marvel—a thrilling, fun and smart dose of cleverly integrated action and compelling sci-fi gimmicks. Those are aspects I was able to enjoy when I first saw and reviewed the film, but it wasn't until a second viewing that I was truly able to appreciate the fascinatingly constructed filmmaking metaphor that Nolan had created. In Inception, a team of specialists (read: film crew) take their mark (read: the audience) on a journey, and attempt to surround them in a believable world, burying them deeper and deeper in a narrative in hopes that the emotional catharsis they experience will feel real. With its final moments, Inception seems to be championing the power of film: If the emotional catharsis you experienced felt real to you, does it matter if it's actually real or not? It's a poignant note to end a film on, but truthfully it isn't fully earned, as Inception has no emotional catharsis of its own. The journey we're meant to invest in is Cobb's, but his psychological trauma with his wife, while interesting, doesn't offer much to latch onto emotionally. Were the film not so cold and distant—and were there not such an onslaught of exposition to contend with—Inception might've been a masterpiece. As is, it's still a damn fine piece of cinema, and a worthy addition to any film collection.
Available on Blu-ray? Yes.
Notable Extras: DVD – Featurettes ("The Inception of Inception", "The Japanese Castle: The Dream is Collapsing", "Constructing Paradoxical Architecture – Designing the Staircase to Nowhere", "The Freight Train – Constructing the Street-Faring Express Train"). Blu-ray – Includes everything on the DVD, as well as Extraction Mode, a Dreams: Cinema of the Subconscious Documentary, an Inception: The Cobol Job Digital Motion Comic, Project Somnacin: Confidential Files (via BD-Live), a copy of the DVD, and a digital copy of the film.
*Best Buy also has single-disc Blu-ray ($18.99).
EXCLUSIVE DEAL:
What? Blu-ray combo back plus Inception: The Shooting Script ($29.99). Includes the director's initial handwritten notes of the Inception plot.
Where? Best Buy.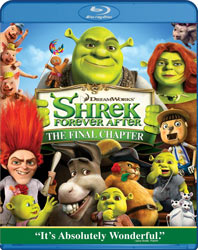 SHREK FOREVER AFTER
Shrek Forever After is a significant improvement over Shrek the Third, but that might mean more if the Shrek name held the same value it did nearly ten years ago. At the time of its release, Shrek was a breath of fresh air; as one of the earliest computer animated films, its animation was stunning, and it had a distinctive edge that helped separate it from Pixar's early efforts. Now though, its pop culture topicality and fairy tale irreverence feel somewhat dated and stale, and its sequels' only more so. Not once while watching Shrek Forever After did I feel like it was a necessary continuation of the Shrek story. That's not to say it's an unpleasant viewing experience by any means—it's at least more heartfelt and engaging than the previous film—but it's hard to shake off the feeling that, with this final entry, the series is going out with a fizzle rather than with a bang.
Available on Blu-ray? Yes.
Notable Extras: DVD – Deleted scenes, featurettes ("Spotlight On Shrek", "Secrets Of Shrek Forever After", "From Swamp To Stage: The Making Of Shrek The Musical"), and more. Blu-ray – Includes everything on the DVD, as well as a filmmaker commentary, featurettes ("Conversation With The Cast", "The Tech Of Shrek Forever After"), a Shrek, Rattle & Roll music video, and more. Blu-ray/DVD Combo – Includes everything on the single-disc Blu-ray, as well as Donkey's Caroling Christmas Shrektacular and a copy of the DVD.
*Best Buy also has single-disc Blu-ray ($22.99).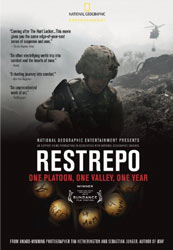 RESTREPO
Restrepo—a war documentary from National Geographic—forgoes narrative structure, talking head interviews and political commentary in an attempt to deliver a pure, untainted experience, chronicling the one-year deployment of a platoon of U.S. soldiers at one of the most dangerous outposts in Afghanistan. It has received unanimous acclaim from critics, securing a 97% on Rotten Tomatoes. Here's the trailer.
Available on Blu-ray? Yes.
Notable Extras: DVD & Blu-ray – Deleted scenes, extended interviews, "Sleeping Soldiers" featurette, and text updates from soldiers.
Other noteworthy DVD (and Blu-ray) releases this week...
Barry Munday [DVD / Blu-ray] – Hunter Prey – Cronos (Criterion Collection) [DVD / Blu-ray
Noteworthy Blu-ray-specific releases this week...
Videodrome (Criterion Collection)

NOTES: Some deals may vary by store. Some deals may be in-store only. All deals are for DVDs unless otherwise noted.

$4.99 – Seven, The Box, I Am Legend, Borat, Batman Begins, Grandma's Boy, 300, Dodgeball, The Notebook
$19.99 – Six Feet Under (Season 1 – 5), Mad Men (Season 2), Dexter (Season 2), Californication (Season 2), Flight of the Conchords (Season 2), Scrubs (Season 8), Castle (Season 1), Entourage (Season 5)
$9.99 – Blu-ray sale: The Departed, American History X, The Wrestler, Slumdog Millionaire, Gran Torino, Watchmen, The Taking of Pelham 123, The Human Centipede
$14.99 – Blu-ray sale: Sherlock Holmes, Where the Wild Things Are, Zombieland, I Love You Man, The Hangover, 2012, The Blind Side, Ninja Assassin