Kevin James And Adam Sandler May Be 'Valet Guys' For Sony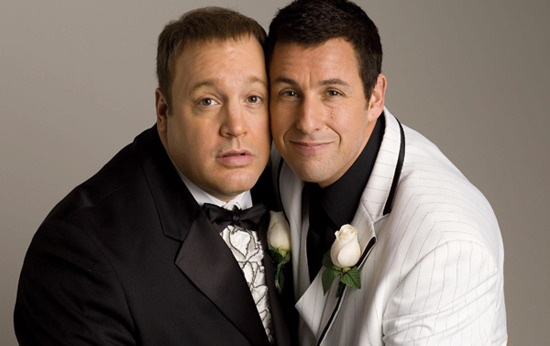 Briefly: Once upon a time Adam Sandler would have been the name driving a new action comedy, but now he's sharing the spotlight with his I Now Pronounce You Chuck and Larry co-star Kevin James. The two are the presumed leads for Valet Guys, based on a pitch Sony just purchased about two, er, veteran South Beach valet guys who witness a murder and consequently go on the run.
Deadline has the bare details, saying that Nick Bakay, a frequent Kevin James collaborator (producer on King of Queens and Paul Blart: Mall Cop writer, for example) will write the script with James. In other words, this has a better than average chance of getting made. And when it goes get made, you can bet that it'll be critically bulletproof and hit $100m before you count to ten. But what the hell; the idea has easy, if well-worn comic potential. If you're a Kevin James fan, the title and premise are probably enough to secure a ticket. Pass time with Kevin James in The Zookeeper, which opens on July 8, 2011, while you wait for this one.