Aaron Johnson And Mia Wasikowska Cast In 'Albert Nobbs'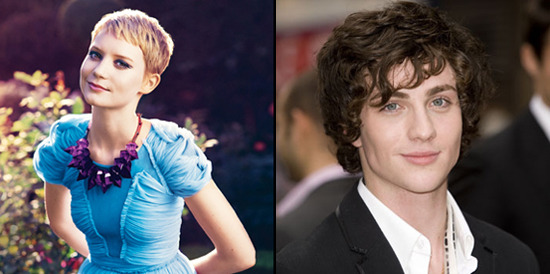 We've reported briefly on Albert Nobbs in the past — Glenn Close co-wrote with John Banville, an adaptation of the story The Singular Life of Albert Nobbs by George Moore, and will produce and star as the title character. That's not a gender mistake — Glenn Close will play a woman who disguises herself as man to get work and escape a life of poverty in 19th century Ireland.
At one point Amanda Seyfried and Orlando Bloom were part of the cast. But the film was delayed, and Mia Wasikowska recently replaced Amanda Seyfried, and Aaron Johnson now has the role that once seemed to be pegged for Orlando Bloom.
ScreenTerrier reports on the swap, and says the film begins shooting next Monday, December 13, and will film in Dublin, Ireland until the end of January 2011. Rodrigo Garcia (Nine Lives) directs. That core creative crew — Glenn Close working with John Banville on a George Moore story, along with this cast, is pretty compelling.
19th century Ireland: a woman with no husband or family and without work would face a bleak life of poverty and loneliness. Albert, a shy butler who keeps himself to himself, has been hiding a deep secret for years – 'he' is a woman who has had to dress and behave as a man all her life in order to escape this fate. When handsome painter Hubert Page arrives at the hotel, Albert is inspired to try and escape the false life she has created for herself. She gathers her nerves to court beautiful, saucy young maid Helen in whom she thinks she's found a soul-mate – but Helen's eye is on a new arrival: handsome, bad-boy Joe, the new handy-man! As Albert dares to hope that she might one day live a normal life, we catch a glimpse of a free-spirited woman who is caught in the wrong time... This humorous but ultimately poignant ensemble story about life 'below-stairs' is nothing less than Gosford Park meets Boys Don't Cry.