Neill Blomkamp Reteams With Sharlto Copley For 'Elysium'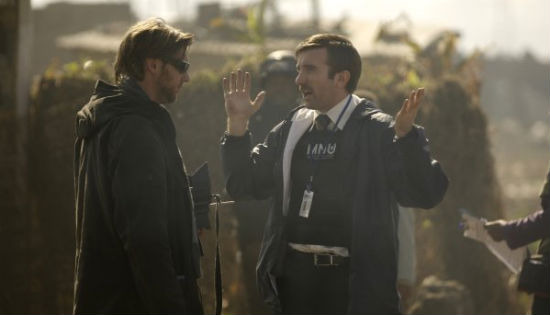 Neill Blomkamp won't be heading to District 10 for his sophomore directorial effort, but he will be staying in the sci-fi genre. The District 9 director is currently shopping Elysium, a futuristic story set on a far away planet, around Hollywood and it's set to star his long time friend and District 9 collaborator Sharlto Copley. Obviously, the plot is being kept under wraps but it's said to be very similar to their first film in that it'll wrap socio-political themes around a bunch of action. After the jump, read what Hollywood insiders, and Blomkamp himself, have to say about the project and more. Deadline broke the news of Copley's involvement with the project, which Blomkamp has been talking about in code for a while. The film will be produced by Media Rights Capital and while they have a deal with Universal, reportedly, distribution rights for the film are "wide open" and no one else has been cast. Here's what an insider told the news site:
Neill is taking meetings all over town. There is a lot of interest from every studio. They have been working out budget and are now meeting with actor reps.
Though Blomkamp hasn't spoken about the film in a while, he did have a lot to say about it in the past. Though, at the time, we didn't know he was talking about Elysium.
I've got one science fiction idea that I'm absolutely in love with, which I'm pretty sure is going to be my next film. 99% sure...It's totally original, it's my own story...It's set on another planet, but it's cool. It's violent, very violent, and very unique hopefully. We'll see.
Here's another quote.
It is science fiction and it has many sociopolitical ideas that interest me. Those ideas are wrapped up inside something that is like a Hollywood action film...The setting for the next film takes place 150 years from now. There are two cities that I'm choosing between. They would play as themselves. They are not in South Africa.
And a third.
Hopefully, this will be a bit unique, very much a reflection of me. It is absolutely another science fiction film, quite different from District 9, but some of the blending of genres and the tone might be within the same realm.
After the success, both financially and critically, of District 9, Blomkamp is in that rare position to do whatever he wants and Elysium sounds pretty incredible. If he hits this one out of the park, he'll continue to have carte blanche. And, if it flops, he can always go and do District 10, which the studio obviously wants.
Are you excited to see what the director does next?