Cool Stuff: 'The Fighter' Blood, Sweat And Art Event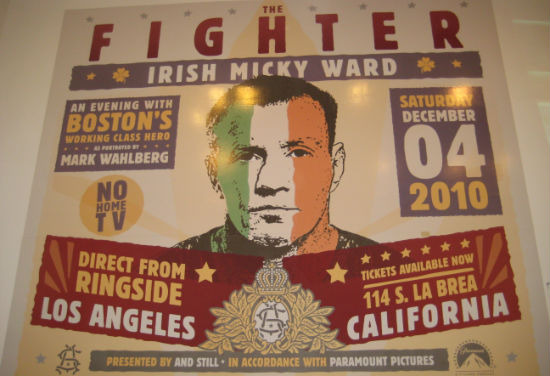 Boxing fans know that, more than many other sports, fighting is an art. The way you punch, move and react can be such a fluid, beautiful thing that immortalizing the sport in art makes perfect sense. Saturday night in Los Angeles, that's exactly what happened as Paramount hosted The Fighter: Blood, Sweat and Art. It consisted of a free screening of their Oscar contender The Fighter, about the life of boxer "Irish" Micky Ward and directed by David O. Russell starring Mark Wahlberg, Christian Bale, Amy Adams and Melissa Leo, followed by an art show with limited edition art prints, one of a kind boxing gloves and custom made t-shirts. We've already talked about how solid The Fighter is, you can read a review and watch our video blog here, and after the jump check out a bunch of awesome art created specifically for this movie and this event.
Below is a gallery of limited edition prints, t-shirts, original art and original designed boxing gloves. Any of the prints and t-shirts that don't sell out at the show will be sold at Gallery1988.com, which helped organize the event and always has awesome gallery events in Los Angeles. The original art and boxing gloves will also be available on the site starting Monday, either for purchase or auction.
Mouse over each photo to find out the artist behind the print, original, shirt or gloves.
Not only was all of this stuff on display and for sale, there was a boxing ring in the middle of the space (which was held at & Still in Los Angeles) along with old school "Irish" Micky Ward fights being projected on the wall and The Fighter soundtrack blaring on the speakers. Attendees got a gift bag with the Silent Giants print seen above and a gray hoodie in it, plus all the free beer they could drink – if they were willing to wait in a very long line.
Which of these prints and shirts are your favorites?