Watch: Animated Warner Bros. Short 'Coyote Falls,' And A Live-Action Short In The Road Runner Style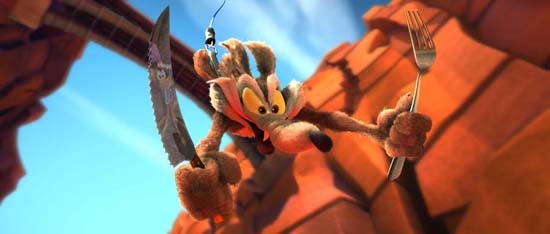 Here's a good little Friday treat; some of you may have already seen one (or both) of these shorts, but if not they're both worth a look. First we've got Coyote Falls, the first of three new CGI Road Runner shorts produced by Warner Bros. It ran in theaters, in 3D, this summer, but if you missed it now's your chance. And then there's Wiley vs. Rhodes, a live-action short of uncertain origin that does a great job capturing the spirit of the Road Runner cartoons.
I'd heard good things about Coyote Falls, and am really happy to see that there are some genuine laughs in there. The visual style is great — clean but not too shiny. It looks and sounds like a Road Runner short should. And the gags are pretty much on point. Though there are a few too many shots designed in the classic 'in your face' 3D style, this one is a winner.
Wiley vs Rhodes, meanwhile, was shot on location in Utah and uses a whole bag of tricks to replicate the look, sound and feel of a Road Runner cartoon as a desperately thirsty man attempts to steal water from a speedy runner.
Apache Pictures made the short, and there's some speculation that it is a viral campaign for an energy drink. Regardless of intent, it's a fun piece that has a couple of great moments. [via Dangerous Grounds]