THR's 2010 Awards Watch Actors Roundtable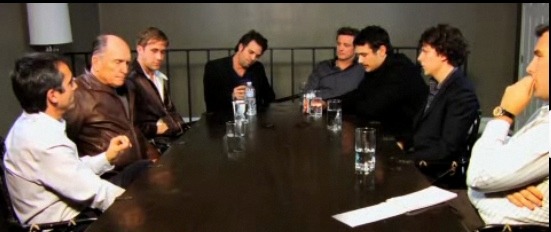 It's award season, and The Hollywood Reporter has begun posting their series of roundtable discussions with the contenders. Last month they posted an one-hour discussion between screenwriters Aaron Sorkin (The Social Network), Simon Beaufoy (127 Hours), Michael Arndt (Toy Story 3), John Wells (The Company Men), Todd Phillips (Due Date) and David Lindsay-Abaire (Rabbit Hole) and the Animators roundtable discussion between Bonnie Arnold (producer, How to Train Your Dragon), Roy Conli (producer, Tangled), Bob Last (producer, The Illusionist), Tom McGrath (director, Megamind), Chris Meledandri (producer, Despicable Me) and Lee Unkrich (director, Toy Story 3).
Today they have posted the actors roundtable, which features James Franco (127 Hours), Duvall (Get Low), Ryan Gosling (Blue Valentine), Jesse Eisenberg (The Social Network), Colin Firth (The King's Speech) and Mark Ruffalo (The Kids Are All Right). Here are the listed highlights:
James Franco admitted he hates a lot of his movies. Robert Duvall questioned David Fincher's shooting style. And Ryan Gosling opened up about getting fired by Peter Jackson. It was an especially candid Hollywood Reporter Roundtable when six of the year's most awards-worthy actors –  got together Nov. 5 at Siren Studios in Hollywood for an hourlong discussion.
It's great to watch these amazing actors talk with each other about their craft. You can watch the entire one-hour long roundtable after the jump.
The whole one-hour roundtable:
Clips:
Jesse Eisenberg feels 48 of his 50 takes of a shot for The Social Network were "terrible and mortifying." Robert Duvall is shocked.
James Franco and Mark Ruffalo on doing dozens of takes for a scene.
Ryan Gosling on why Peter Jackson Fired Him From 'Lovely Bones'