Four Photos From Kevin Smith's 'Red State'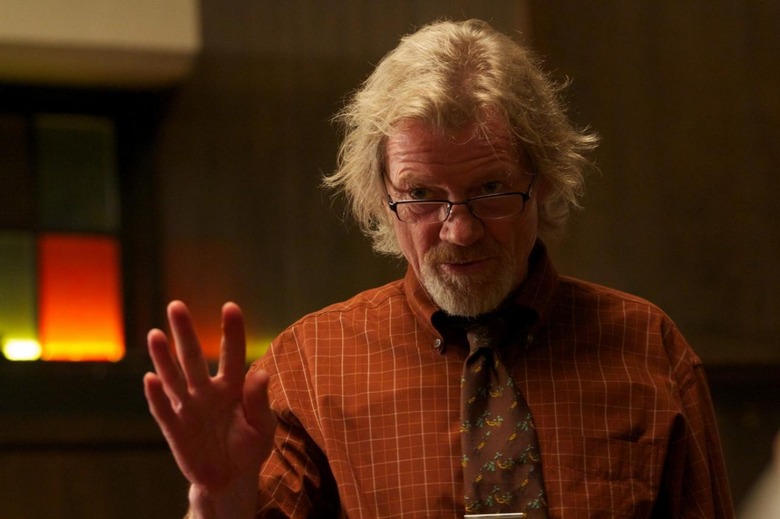 Hot off the heels of its acceptance to Sundance, the first stills from Kevin Smith's Red State have come online and they look nothing like a Kevin Smith movie. And we mean that in the best possible way. Red State, which is a thriller about "a group of misfits [who] encounter extreme fundamentalism in Middle America" is certainly a huge departure from the comedies and romances Smith is best known for. Those films, especially recently, had a very pleasant and colorful palate that made the laughs go down smooth. Now, even though he's once again working with Director of Photography David Klein, one gets a sense that Smith really swung for the fences here, delivering a film with a very specific and terrifying look. The more we see and hear about this film, the more our anticipation builds. After the break, check out images of stars Michael Parks, John Goodman and others.
Thanks to Shock Till You Drop for the heads up on the images from the Sundance website.
What really strikes me about these stills, besides the totally un-Smith look I mentioned above, are the faces on every single person. Each and every one of them look absolutely terrified. All except Michael Parks who plays the heavy, Pastor Abin Cooper. He seems calm, collected and, frankly, kind of freaky. Before now, we'd only seen the back of his head, but now that we've seen his face, it's obvious how Parks will be able to anchor a thriller like this.
If you are excited for Red State, Kevin Smith is doing a podcast all about the production and that's where he premiered the teaser trailer. His friend Richard Kelly called the film a "reinvention" for Smith, which seems obvious now.
Red State also stars Kyle Gallner, Melissa Leo, Michael Angarano, Stephen Root, Kevin Pollak and Nicholas Braun, who'll star in Smith's next film Hit Somebody.
What is your anticipation level for Red State? Are you excited to hear about Smith's Sundance exploits when the film premieres there? And are you still on board with Smith after Cop Out?