Disney Reportedly Plans To Shoot 5th And 6th 'Pirates Of The Caribbean' Films Back To Back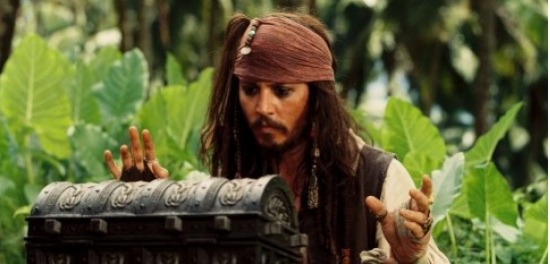 If you were hoping to see Johnny Depp in anything but mainstream fare for the next couple years, this might be the time to store that dream away for a while. The actor is finishing Pirates of the Caribbean: On Stranger Tides, then will make Dark Shadows and The Lone Ranger. And after those, it looks like he could stay in the Disney fold. There's a report that the studio wants to make fifth and sixth Pirates of the Caribbean films, and plans to shoot them back to back.
HitFix reports the news. There are a lot of questions about how and when these films would proceed. We likely won't hear anything about a director until this fourth film opens next year. Would Rob Marshall be willing to work for another couple years on the series? We don't know who will write. Will Ted Elliott and Terry Rossio, writers of the four films, return as well? And as was the case with the fourth film, might some external material might be used to kick start the stories? (In this case it was the Tim Powers novel about Blackbeard.)
And, other than Johnny Depp we don't know anything about a returning cast. In fact, at this point we're assuming that he'll be back, because Captain Jack Sparrow is the focal point for these films, so making two more Pirates movies without Depp seems like a very unlikely thing, indeed.
But Drew at HitFix offers this sentence, which suggests we might see more Pirates sooner rather than later, and that a chunk of the Pirates 4 cast will be back: "Disney has begun quietly telling cast and crew to set aside a major block of time in the very near future."
We don't even have any idea how this fourth film plays, but this move by Disney suggests confidence that it can be sold to an audience, at the very least. (We'll see the first trailer for On Stranger Tides on Monday Dec 13.) Hopefully there's a movie in there to match the first Pirates, which remains a fun character-based adventure. After the first film was successful a plan to make two more was quickly put in place, and to my mind those sequels weren't up to snuff. If Disney is really going down the road for two more Pirates films, let's hope the studio has learned something from the quality of those movies, and hasn't just taken cues from the box office returns.
What will this do to some of the smaller films to which Depp has been attached, such as the Pancho Villa film Emir Kusturica planned to shoot in 2011? Or the new version of The Thin Man, which Rob Marshall could direct? Too bad that latter one is set up at Warner Bros. rather than Disney; if it was Disney one might at least envision a scenario where the studio let that go forward as a breather before the Pirates movies set sail once more.