Sequel Screenplays: Kurtzman And Orci Discuss 'Star Trek 2'; Danny Trejo Says 'Machete Kills' Is Written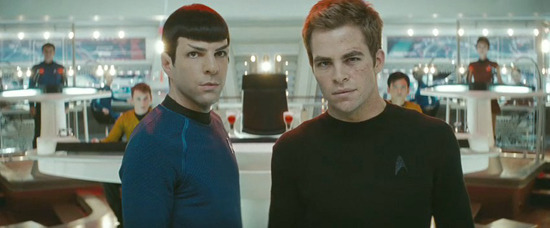 Sequel time: Star Trek 2 and Machete Kills couldn't be more different, but since there's a slight bit of news about the screenplay progress for each of them, why not make a little sandwich post? First up, Machete star Danny Trejo has told Bloody Disgusting that Robert Rodriguez tells him the script for Machete Kills is done. Don't believe me? It's right here: "I asked him when he was going to write it and he says it's written, so we can get started pretty quick."
Since the end credits of the first film promised a second (and third) James Bond-style, this isn't a huge surprise. (The director previously said, "Once you put it out there, just like we found with the trailer, you have to make it.") But Robert Rodriguez has to finish the fourth Spy Kids movie before anything else. And given that Machete did respectable but far from outrageously good numbers, we don't know what the state of the series might be with respect to financing, nor whether co-director Ethan Maniquis might be involved.
After the break, Alex Kurtzman and Roberto Orci talk Star Trek 2. (Which, lest you need a reminder, doesn't actually have a signed director yet, and quite possibly won't until the script is done.)
Alex Kurtzman told the LA Times,
Well, we have broken the story, which is very exciting. I think one of the weird challenges that we're facing on this one is that in many ways, with the first movie, I don't think people knew what to expect, so when we were in the writing process, Bob and I really spent our time going to things that we loved about "Trek" and it was a very unfiltered process. It felt intimate and small. There weren't a lot of voices other than [producer] Damon [Lindelof], J.J. and [executive producer] Bryan Burke. ...part of what we have to do is listen to it all, ask a lot of questions about what people's expectations are — and then let all of that go when we sit down to write. We need to find our way back to the same kind of vibe that we had when we wrote the first one: What do we want to see here? What moved us about "Trek"? Where can we go from where we left off?
Rpoberto Orci follows up with:
...now you want the character stories to be good for everybody but also not just be there to be stories but also fit into the plot and be organic. We're looking at a lot of the old episodes for inspiration, still. Whereas the last movie was all about breaking free from "Star Trek" and its canon, now that we can do whatever we want, we still want it to feel like good ol' "Star Trek" even though it's a new story.
Finally, asked about the tone of the second film and how it fits into the overall scope of the new Star Trek, Roberto Orci hedges a little bit:
I don't know that we've ever thought of it in terms of a trilogy. We thought of the first one as, "How do we tell how this happened the first time and how do we free it so that it can go on forever without stepping on what came before." So, if you were thinking of this movie as a second act, yeah, you would think of it as an "Empire Strikes Back" sort of story, but I'm not sure we're thinking of it as a second act. I can't speak for everybody on that, though.