'The Beaver' Scheduled For Release Spring 2011; Trailer Friday
Barely a month after we got our first glimpse at the poster for Jodie Foster's The Beaver, starring Mel Gibson, word is that the film now has a release window: Spring 2011. That's fairly soon considering Gibson's name is still something of a bad word, but once Summit Entertainment – which is releasing the film – decided it wasn't going to give it an awards push, they moved it into the new year. Though Summit does have two movies coming out in the Spring, Drive Angry 3D and Source Code, the release schedule itself is pretty light until May, making Spring as good a time as any for The Beaver to either flourish or flop.
Also, the trailer will premiere on Entertainment Tonight this Friday. Once it comes online, we'll get it up here too. Read more about the film and see a new photo after the break.
Deadline first reported the news of the release date and trailer premiere. In their article, they state that in a recent Vanity Fair poll 76% of people said Gibson's personal issues wouldn't have any effect on them seeing one of his films. That's music to Summit's ears.
For those who may not know much about The Beaver, here's what I wrote last month regarding it and the Gibson controversy.
The script was number one on the 2008 Black List and is about a man who finds a beaver puppet in the garbage and decides to communicate only using the beaver. Stars like Steve Carell and Jim Carrey hovered around the project, but when Gibson took over the lead role, the film reached a whole other level. It would be only the second film for the Oscar-winner since spewing anti-Semetic remarks in a drunken tirade. But then, just as that incident was seemingly forgotten and the film was finishing, Gibson found himself in hot water again after leaving his girlfriend violent voicemails with racial slurs. Jump to the present and Gibson is once again untouchable. His Leonardo DiCaprio Viking movie went away as did his cameo in The Hangover Part II.
In that same article, I hoped that Summit would give the film a proper release. Spring is certainly fine but this just feels more like an awards season, Fall movie to me. Plus, Summit has more than a enough on their plate for the Spring and Summer, with Drive Angry 3D in February, Source Code in April and then the big push towards The Twilight Saga: Breaking Dawn Part 1 in Fall. That said, it's more than likely you'll see The Beaver in March. Or at least people on the coasts will.
Do you think that's a good release window for the film? Or is Summit just dumping it?
UPDATE: Summit just released our first official look at the film as well as the official plot synopsis and PG-13 rating.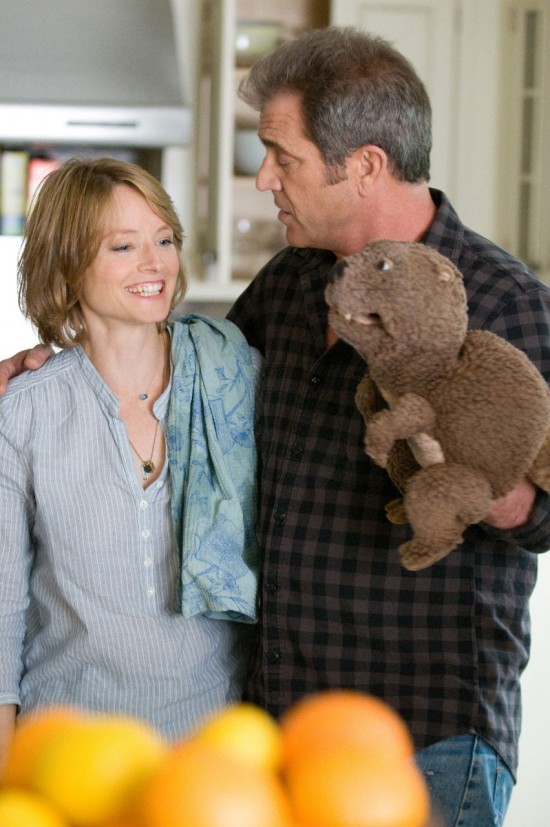 Two-time Academy Award® winner Jodie Foster directs and co-stars with two-time Academy Award® winner Mel Gibson in THE BEAVER – an emotional story about a man on a journey to re-discover his family and re-start his life.
Plagued by his own demons, Walter Black was once a successful toy executive and family man who now suffers from depression. No matter what he tries, Walter can't seem to get himself back on track...until a beaver hand puppet enters his life.