Cool Stuff: Sam's Myth Film Poster Art Show In Nashville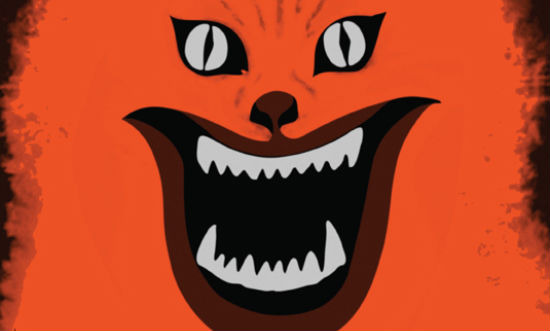 If a bright orange screaming cat has crossed your path in the past few months, you can thank Sam Smith. The Nashville-based artist (who makes art under the pseudonym Sam's Myth when he's not playing drums for Ben Folds) came up with the above image that Janus Films used in their theatrical re-release campaign for Nobuhiko Ôbayashi's 1977 cult film House. In addition to the famous image (which also adorns t-shirts, stickers and more), Smith has been designing posters for IFC Films releases like Carlos and Shoah and did the recent Criterion artwork for House as well as Everlasting Moments and Charlie Chaplin's Modern Times, with more on the way.
His home base, however, is the Belcourt Theatre in Nashville, Tennessee and that's where Smith will have his first art exhibit starting Thursday. Sam's Myth – Film Posters is the name of the show which opens from 5-8 p.m. December 2 and remains on display through the end of the month during regular theater hours. Over 20 pieces of art are part of the exhibit, most of which were designed specifically for screenings at the Belcourt, much like Mondo does with the Alamo Drafthouse or Tommy Good does with the Astor Theatre. See a big gallery of images after the jump as well as details on where you can buy some and more.
Here's a bunch of images from the show. And if the style looks familiar, it might be because you saw Smith's Antichrist/Fantastic Mr. Fox mashup a few months back too.
Most of that art will be on sale in very limited quantities at the show with the remaining stuff going online at a later date on Smith's online store. The My Neighbor Totoro and Before Sunrise/Sunset posters, however, are on sale now.
Also, Smith is in the process of making posters for his ten favorite films of 2010. Only three are done so far – Never Let Me Go, Illusionist and Winter's Bone – but as he finishes the rest, they'll also be on display at the show as well as his blog.
Here's the Belcourt description of the event.
Sam Smith is a 29-year-old artist and musician from Nashville. In early 2009, Sam created a self-initiated series of film posters for the Belcourt Theatre as a fun project, which soon led to a series of limited edition commemorative screenprints for films coming to the Belcourt, designed by Sam and hand-printed locally. Just over a year later, Sam has found himself with four theatrical posters under his belt as well as three DVD packages he designed for The Criterion Collection, thanks in part to the success of Belcourt hits like Nobuhiko Obayashi's HOUSE and the posters Sam designed for them. This December, these prints will grace the Belcourt gallery walls side by side along with some other film poster designs that never went to print. When not drawing or designing, Sam plays drums with Ben Folds and My So-Called Band.
With such a huge number of talented artists out there making film art, from Tyler Stout to Olly Moss, it's very cool to see that someone with talent can still break into the business. In talking to Smith, I found out – off the record – about some really cool things he has coming up in the new year. Suffice to say, you'll be seeing more of his work in some very familiar places, so keep an eye out.
But if you want to see some stuff now, the Belcourt is located at 2102 Belcourt Ave, Nashville, TN. Visit Belcourt.org for more information and for more info and work by Smith, visit his blog.