Terrence Malick Update: New Info On 'The Burial'; Trailer For 'The Tree Of Life' Attached To 'Black Swan' This Weekend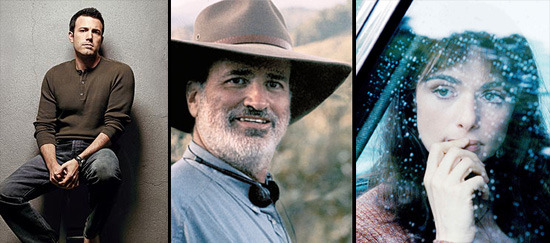 It's a very Malick December 1, as we have detailed news on the director's new film, tentatively titled The Burial, and trailer news for his other new film — the old new film, as it were — The Tree of Life.
JoBlo claims, via Twitter, that there will be a two-minute trailer for The Tree of Life on all prints of Black Swan opening this weekend. I haven't had confirmation of this, nor any news that the trailer will arrive online at the same time. If you work in a theater and have the Tree trailer with your Black Swan print, let us know, please.
After the break, there's an extensive rundown of the film Mr Malick recently wrapped in Oklahoma, which stars Ben Affleck, Rachel McAdams, Rachel Weisz, Olga Kurylenko, Javier Bardem and Barry Pepper. We've known next to nothing about that one so far, other than that Javier Bardem plays a priest, so this will expand your knowledge base on the film by a good margin.
The Wrap offers a great many details, and much of the info is definitely spoilerish. The story seems like a fairly small, contained domestic drama. In that respect it is rather different from any other Terrence Malick film. Here's the site's basic synopsis, but the spoiler-averse might want to avoid even this:
Set over a period of years, the film stars Affleck as Neil, a failed writer stuck in a loveless marriage with Marina (Kurylenko), whose expiring visa put pressure on Neil to propose. Neil and Marina have a daughter (Tatiana Chilin) together, but both of them are looking outside the marriage. Neil is drawn to Jane (McAdams) and Marina betrays her husband by having an affair with Charlie.
Both Neil and Marina seek guidance from Father Quintana (Bardem), a priest frustrated by his inability to live his own life because he's too busy advising his parishioners on theirs. The couple's dysfunctional relationship begins to take a toll on their daughter, who starts having problems in school.
There's quite a bit more at the Wrap, but you'll have to head over there for the details. I'm skipping much of that read, myself, as I'd rather see it on screen. The big screen, that is.
If you're not sure about where Black Swan might be playing near you this weekend in its limited opening, and therefore where you might see the trailer for The Tree of Life, Fox Searchlight offers info on Black Swan openings this weekend here. But double-check with local listings, as some of that info might be out of date. I'm told the Atlanta/Marietta opening info, for example, is no longer valid.