This Week In DVD & Blu-Ray: Knight And Day, The Sorcerer's Apprentice, Going The Distance, And More
We may receive a commission on purchases made from links.
This Week in DVD & Blu-ray is a column that compiles all the latest info regarding new DVD and Blu-ray releases, sales, and exclusive deals from stores including Target, Best Buy and Fry's.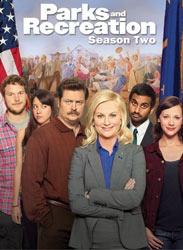 PARKS AND RECREATION (SEASON 2)
My write-up of the first season of Parks and Recreation amounted to little more than a prediction that the show would hit its stride in Season 2. Lo and behold, that's exactly what happened. Following a nearly identical pattern to The Office, Parks and Rec struggled through a forgettable introductory 6-episode season that mainly served to set up the characters and find the show's rhythm. I see it as the trial run to the expanded 24-episode second season, which utilizes its engaging cast to much greater comedic effect. If you gave up on it after the first season, I highly recommend giving it another chance.
Available on Blu-ray? No.
Notable Extras: Over two and half hours of deleted scenes, six audio commentaries, a blooper reel, five webisodes, "Mouse Rat Rocks the Wrap Party", "?uestlove on: Parks", Theme Song performed by Gabby Moreno, and Winter Games promos.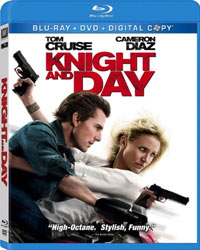 KNIGHT AND DAY
(Blu-ray available as Two-Disc Blu-ray/DVD and Three-Disc Blu-ray/DVD Combo + Digital Copy)
Knight and Day is pure formula, but at least it knows it. Rather than be bogged down by exposition, the film jumps from point A to point B with little hesitation or need for calm, rational discourse between characters. It's typical action comedy fluff that relies on two things: elaborate action set pieces, and the chemistry of its lead stars. Both have their issues—CGI overwhelms the set pieces, and Cameron Diaz's grating Cameron Diaz-ness overwhelms the banter between her and Tom Cruise—but for the most part it's an enjoyable enough romp. Tom Cruise keeps the film moving with his natural charm and easy-going comedic sensibilities, and James Mangold continues to show off what an eclectic director he is with a fun, breezy diversion that's far removed from his past efforts.
Available on Blu-ray? Yes.
Notable Extras: DVD – Wilder Knights and Crazier Days, Knight and "Someday": Featuring the Black Eyed Peas and Tom Cruise, Viral Video: Soccer, and Viral Video: Kick. Blu-ray – Includes everything on the DVD, as well as Boston Days and Spanish Knights, Knight and Day: Story, and Knight and Day: Scope.
*Does not include 3-Disc Edition, which costs $22.99 at Target, $24.99 at Best Buy, and $19.99 at Amazon.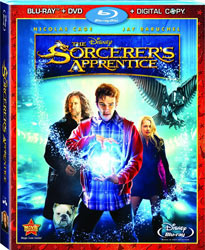 THE SORCERER'S APPRENTICE
(Blu-ray available as Two-Disc Blu-ray/DVD and Three-Disc Blu-ray/DVD Combo + Digital Copy)
The Sorcercer's Apprentice makes no attempt to approach its story with even a hint of originality or spontaneity, but makes up for it lacks in narrative drive with an extensive array of expensive and occasionally inventive special effects. It's neither bad nor particularly good; it's simply serviceable, hitting all bases as it needs to do while still putting more of an emphasis on action sequences than strong characters. Assuming you don't hate Nicolas Cage and Jay Baruchel, it's not a terrible way to spend to a couple of hours.
Available on Blu-ray? Yes.
Notable Extras: DVD – The Making of The Sorcerer's Apprentice, and Deleted Scene: Blathazar recruits Dave. Blu-ray – Magic In The City, The Science Of Sorcery, Making Magic Real, Fantasia: Reinventing A Classic, The Fashionable Drake Stone, The Grimhold: An Evil Work Of Art, The Encantus, Wolves & Puppies, The World's Coolest Car, Deleted Scenes: A Candidate In Calcutta, A Model Student, Balthazar Recruits Dave, Oh No, It's Andre, Man's Best Friend, Outtakes, and Visual Effects Demos.
*Does not include 3-Disc Edition, which costs $26.99 at Best Buy and Amazon, and $29.99 at Target.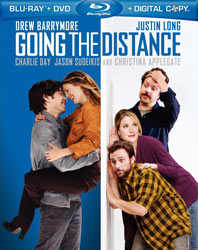 GOING THE DISTANCE
Going the Distance wavers uncomfortably between being a harmless, lighthearted and utterly rote rom-com, and a hard-R Judd Apatow-style raunch-fest. It has its charms—Justin Long and Drew Barrymore have strong screen chemistry, and it features a likable supporting cast that includes It's Always Sunny in Philadelphia's Charlie Day, Jason Sudeikis, Christina Applegate and Jim Gaffigan—but it's also sporadically insufferable. Dialogue exchanged between Long and Drew is often intended to be cute and funny and off-the-cuff, but sometimes bombs hard, giving off a smug and self-satisfied vibe that's hard to shake. It doesn't help that the supporting characters apparently have no lives outside of being a backdrop to their romance. Not nearly as bad as most romantic comedies, but hardly one of the better ones, either.
Available on Blu-ray? Yes.
Notable Extras: DVD – Additional Scenes. Blu-ray – Includes everything on the DVD, as well as commentary by director Nanette Burstein, How to Have the Perfect Date, A Guide to Long-Distance Dating, The Cast of Going the Distance: Off the Cuff, The Boxer Rebellion "If You Run" Music Video, and Behind the Scenes of the Going the Distance soundtrack.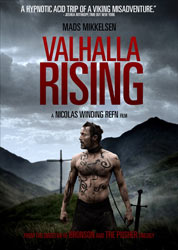 VALHALLA RISING
From writer/director Nicolas Winding Refn (of the Pusher trilogy and Bronson) comes Valhalla Rising, a nightmarish descent into despair, violence and evil. That's as much a discussion of the film's thematic material as it is a plot synopsis. There's not much of a narrative here, or even dialogue for that matter. Like Antichrist, the film is more reliant on atmospherics and the brooding intensity that stems from the haunting imagery and score. The arthouse crowd will probably dig it, but those hoping for complex characters and a storyline that has more than just a metaphorical resonance, steer clear.
Available on Blu-ray? No.
Notable Extras: The "Making of" Valhalla Rising.

THE TWILIGHT SAGA: ECLIPSE
(Releases on Saturday, Dec 4, 2010)
Critics were a lot kinder to this third installment of the Twilight saga. That's good news for Twilight fans; less so for anybody reading this.
Available on Blu-ray? Yes.
Notable Extras: Two-Disc DVD & Blu-ray – Audio Commentary with Robert Pattinson & Kristen Stewart, Audio Commentary with Stephenie Meyer & Wyck Godfrey, Six-part "Making of" documentary, Deleted & extended scenes, Music videos, and a Fast-Forward to all your favorite scenes feature.
Other noteworthy DVD (and Blu-ray) releases this week...
Waking Sleeping Beauty – Cairo Time [DVD / Blu-ray] – The Special Relationship – Vampires Suck [DVD / Blu-ray]
Noteworthy Blu-ray-specific releases this week...
Fantasia / Fantasia 2000 – Meet the Parents – Meet the Fockers

NOTES: Some deals may vary by store. Some deals may be in-store only. All deals are for DVDs unless otherwise noted.

$10 – Blu-ray sale: The Dark Knight, Ninja Assassin, Mr. and Mrs. Smith, Valkyrie

2 for $22.99 – Blu-ray sale: Inglourious Basterds, Public Enemies, Coraline, 9, The Bourne Ultimatum, It's Complicated, Couples Retreat