Spike Jonze Wants You To Check Out 'The Fighter'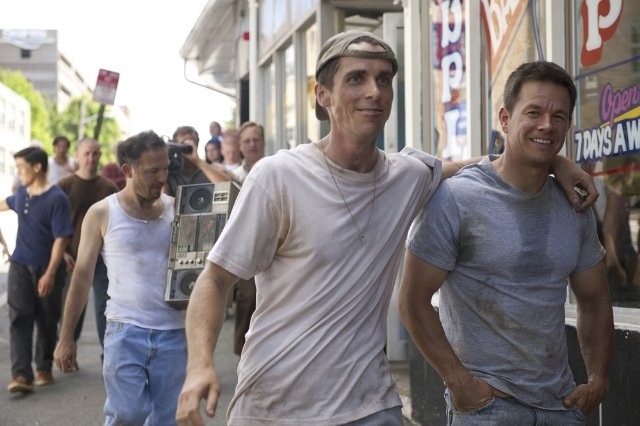 I'm surprised that there isn't more buzz right now for David O Russell's The Fighter. Lets face it, the first movie trailer for the film wasn't exciting, and the poster is kinda "blah"-looking. I had a chance to screen the film at a sneak preview at AFI Fest (you can watch our video reaction here). It's a good movie and I really believe that Christian Bale's performance in this film is nothing less than amazing. It isn't even a performance, it is a transformation in every sense of the word.
I received an e-mail from film director Spike Jonze (Being John Malkovich, Where The Wild Things Are) who is trying to get the word out for his friend, director David O Russell. Spike gave me permission to reprint his e-mail on the site, as I told him that his recommendation might convince a few more film fans to seek out this movie and spread the word.
I got to see it a few weeks ago, and I loved it, and if all you saw is the trailer that's out, you might not know that it's as interesting and strong as it is.
So please hit the jump, read the entirety of Spike's brief note and give the supplementary two minute trailer titled "Pressure" (which screened on tv but not theatrically) a chance.
Spike's E-Mail:Hey Peter -Spike here. I'm writing on behalf of my friend David Russell, regarding his new movie The Fighter. Did you get a chance to see it yet? How insanely great is Christian Bale?Can you do me a favor and post this 2 minute trailer called "Pressure" on your site?The trailer that they put out originally makes the film feel a little generic and I just want to help David get the word out. I got to see it a few weeks ago, and I loved it, and if all you saw is the trailer that's out, you might not know that it's as interesting and strong as it is.Thanks for your help!
Spike
The Trailer "Pressure"Cast: Mark Wahlberg, Christian Bale, Amy Adams and Melissa LeoOfficial Plot Synopsis: Dicky Ecklund (CHRISTIAN BALE) is a former boxing legend that squandered his talents and threw away his shot at greatness. Micky Ward (MARK WAHLBERG), his half brother, is the struggling journeyman boxer who spent his life living in his big brother's shadow.
The Fighter is the inspirational, true story of these two brothers who, against all the odds, come together to train for a historic title bout that will unite their fractured family, redeem their pasts and, at last, give their hard-luck town what it's been waiting for: pride. The story unfolds on the gritty, blue-collar streets of Lowell, Mass, where Dicky was once known as "The Pride of Lowell" having gone the distance with the world champion Sugar Ray Leonard. However, after losing that fight, like the town of Lowell, Dicky's fallen on hard times. His boxing days are behind him and his life has become shattered by drug abuse.
Younger brother Micky, meanwhile, has become the family's fighter and fading hope for a champion. But despite all of his work, Micky's career is failing and he loses fight after punishing fight. Dicky and Micky's tougher-than-nails mother, Alice (MELISSA LEO),manages his career and Dicky serves as his highly unreliable trainer. When Micky's latest fight nearly kills him, it looks like it could all be over – until his iron-willed new girlfriend, Charlene (AMY ADAMS), convinces him to do the unthinkable: split with his family, pursue his own interests and train without his increasingly volatile and criminal brother.
Now Micky has the chance of a lifetime as he earns a shot at the World Championship. But when his brother and dysfunctional family reenter his life, they must all reconcile their
pasts and become more than just a family in name. With Micky and Dicky reunited, this becomes more than just a fight – it's an all-out comeback for these brothers, their family, and their city. When it's over, Micky will have become a World Champion, a Hall of Fame legend, and the new "Pride of Lowell". The Fighter is a moving and often humorous drama about fighting for the people you love.
The Fighter will be released in a limited run on December 10th 2010 before opening nationwide on December 17th 2010.