Justin Timberlake Campaigning For 'The Social Network' Oscar Nomination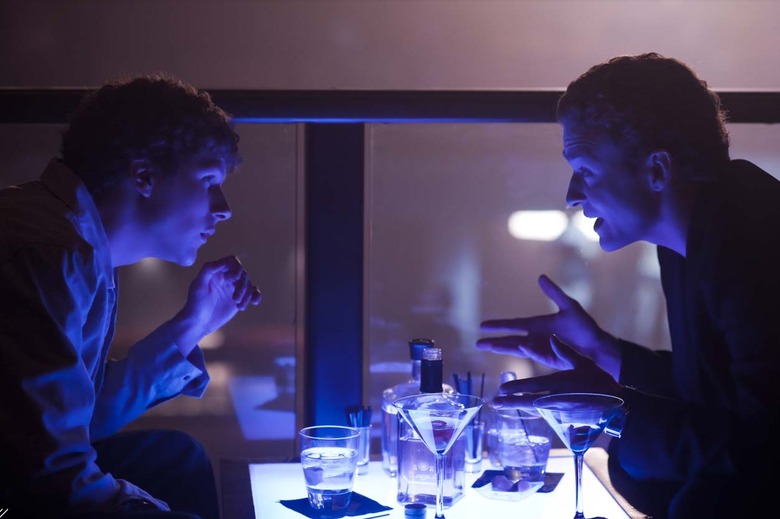 As 2010 comes to a close, The Social Network is one of the films leading the award season pack. That, along with Toy Story 3, Inception, The King's Speech, The Kids Are All Right and recent Gotham Award winner Winter's Bone are just a few of the films vying for awards leading up to the Oscar nominations on January 25. Experts tend to agree that the Facebook movie will get one of the ten Best Picture nominations, David Fincher will get a Best Director nomination, Aaron Sorkin will get a Best Screenplay nomination, Jesse Eisenberg will get a Best Actor nomination and Andrew Garfield will probably grab a Best Supporting Actor nomination. But what about the film's third star, Justin Timberlake?
The 'N Sync singer turned actor has been doing a pretty great job of legitimizing himself in the last few years with films like Alpha Dog and Black Snake Moan, culminating with his turn as Napster co-founder Sean Parker in The Social Network. His name has been floating around as a possibility for a Best Supporting Actor nomination but, according to reports, the actor himself is pushing really hard for it. Read about Timberlake's tactics after the jump.
According to the New York Post's Page Six, which one should always take with a grain of salt, Timberlake is "mounting an aggressive campaign" to garner a nomination, which includes rubbing elbows with Academy voters, attending screenings and more.
He's hell-bent on getting a nomination this year even though he has tough competition from his co-star Andrew Garfield. Sony is footing the bill for advertising the awards campaign, but Justin is also doing things his own way, including attending Academy screenings on his own and privately reaching out to award winners and Academy darlings Tom Hanks and Kevin Spacey for campaigning advice.
The Post contacted Timberlake's reps who declined to comment but another source cryptically said "He's doing everything to support 'Social Network.'"
You can't blame Timberlake for going all out to try and get a nomination. He knows that awards are really more about politics than merit. That's not to say his role doesn't merit a nomination (in my opinion it doesn't, but others would disagree) just that voters have been known to be swayed by celebrity and campaigning. Plus, to date, his role in The Social Network is his highest profile performance where you actually see his face. Might as well go for broke if the film is going to get a bunch of nominations anyway.
Even if Timberlake does get his nomination, though, I don't believe anyone is going to beat Christian Bale. His performance in The Fighter is probably the best of the year for either sex and it will probably be the one major award bestowed upon that film.
Do you think Timberlake deserves a nomination? And does it both you that politics and socializing are so important to getting awards in Hollywood?