James Franco And Anne Hathaway Will Host The 83rd Academy Awards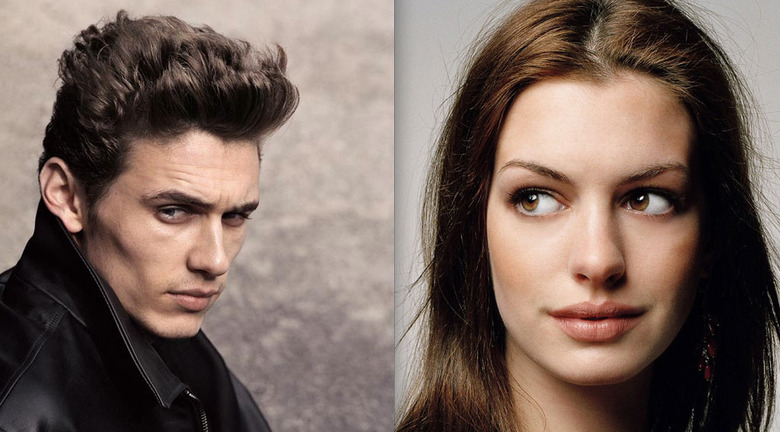 In a fairly interesting move, the Academy of Motion Picture Arts and Sciences have announced that James Franco and Anne Hathaway will co-host the 83rd Academy Awards. The broadcast will air on February 27, 2011.
The announcement comes courtesy of an Academy
(via
). Franco and Hathaway have both appeared on the telecast before (Franco once before, Hathaway four times prior). I think the two are enormously talented and will do fine at the job. But Deadline speculates that Academy president Tom Sherak chose the two in an attempt at boosting Oscar ratings. They're certainly skewing much younger this time around;
points out that Franco and Hathaway's combined age (61) is less than that of Steve Martin's (who took on Oscar co-hosting duties last year with Alec Baldwin). I'm not so sure this will make for a successful gambit. Are Franco and Hathaway really big enough stars that they'll drive more tweeners to tune in to a staid, overly political, interminably long broadcast (at least, more than otherwise would tune in already)? I'm dubious.
More intriguing about this announcement is that both Franco and Hathaway currently have movies out. Franco is potentially competing for Oscar gold with 127 Hours, while Hathaway's Love and Other Drugs failed to rouse audiences this past weekend. I've seen 127 Hours and think Franco has more than a fair shot of taking home "Best Actor." What would a Franco-hosted Oscars, featuring a Franco win for Best Actor, look like? Pre-planned and unfair? Or more moving and exciting and littered with humorous in-jokes than it would otherwise be?
Feel free to weigh in with thoughts in the comments. I'll bask in the optimism that this announcement brings, before the AMPAS finds some other way to dash my hopes expertly.