Early Buzz: Julie Taymor's 'Spider-Man: Turn Off The Dark'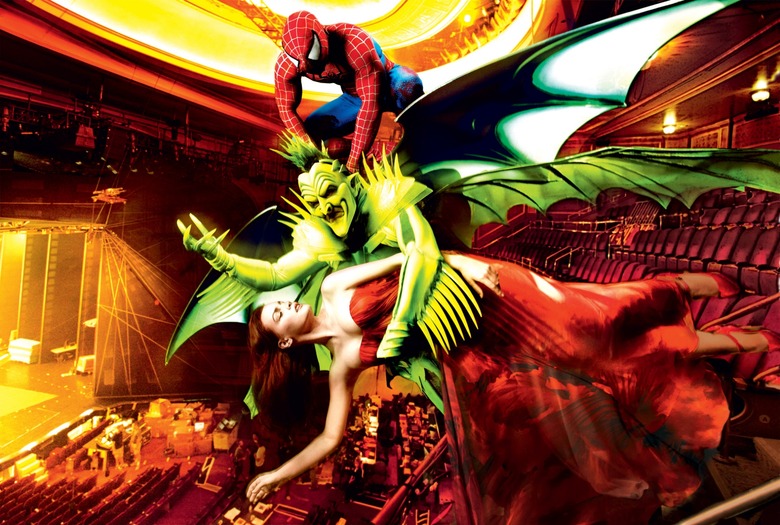 Spider-Man: Turn Off The Dark had its first preview performance on Broadway Sunday night. So how did Tony Award-winning director Julie Taymor's (Titus, Frida, Across the Universe) $65 million big stage comic adaptation hold up? Find out after the jump.Disclaimer: It should be noted that a preview performance is not final, much like a test screening of a feature film. The performers are basically putting on a dress rehearsal, and the director uses the audience to tweak and make changes before opening night. The show proper is set to open in January 11th 2011, giving them six weeks to get it right. Thus, please do not take these reader reviews as an accurate representation of the final stage performance.
The consensus is that it is a visually stunning with major story issues and lackluster music, but still shows potential.
New York Times: The show stopped five times, mostly to fix technical problems, and Act I ended prematurely, with Spider-Man stuck dangling 10 feet above audience members, while Act II was marred by a nasty catcall during one of the midperformance pauses. ... Most of the night's major flying sequences — which make up a relative fraction of the show — went off without a hitch, with children and some adults squealing in delight. And there were no signs of injuries, which had been a point of concern after two performers were hurt during an aerial sequence this fall. ... After the show, several audience members said in interviews that they would hold off on recommending the show to friends until improvements were made. But Marc Tumminelli, 30, who runs a Manhattan acting school for children, said he was concerned that the musical's problems were too fundamental to be corrected quickly. "The story-telling is really unclear and I found it hard to understand exactly what was going on and why certain things were happening," Mr. Tumminelli said. More delighted was the 6-year-old boy sitting a row ahead. "Parts of it were really exciting," said the boy, Jack Soldano, whose parents brought him. "I've never seen people flying before."
Ira Deutchman on Twitter: "at intermission after several technical delays. But tech issues are not the only things that need work. More to come... ... Definitely needs work in the 6 weeks until it opens. It's basically incoherent...a pageant of Taymor imagery set pieces are spectacular, and the flying looks genuinely dangerous, but the music isn't good enough to hold it together. I hope they pull it together, but it'll take a lot of pruning. Hard to know if the minimalist sound to the music is a creative choice, or due to the needs of rehearsal."
DarthDooku on AICN: "The story basically follows the typical story of high schooler Peter Parker getting his spider powers, saving the day from the Green Goblin, and romancing Mary Jane. A few extra details were added this time around, however. First off, the story is told by these four kids, who seem to be creating the plot in their minds. As they come up with various elements of the story, we see these acted out on stage. Also, they incorporate an element of greek mythology, a lady called Arachne, throughout the story. More villans are also there, and they form the Sinister Six: Carnage, Kraven, Swarm, Electro, Lizard, and a new creation called Swiss Miss. ... The story was by far the weakest element of the production. There was not much explanation between scenes, and I felt like to truly understand it, you needed to have seen the first two Spider-Man films. ... They need to work on having a more coherent plot. ... The music was totally not catchy, at least not to me."
Kasey Leo Straiton on Twitter: "Enjoyed Spiderman musical but need to work out the flow of the story. Hope they get the stunts working. Don't recommend balcony seating."
Mark Shenton on The Stage Blog: "The first preview was indeed stopped four times during the first act, and once in the second. A sympathetic, enthusiastic audience was "on side" for the most part, though a longish pause in the first act drew a small slow handclap, and the second act breakdown drew one loud heckle that what we were watching was not so much a first preview as a dress rehearsal. It is, of course, far too soon to start talking critically about the show, and I wouldn't dream of attempting to review the very rough draft I saw. It is difficult, though, not to feel that the producers are walking headlong into a PR disaster by showing a work-in-progress as palpably unready as this is; and while all may have been forgiven if the much-vaunted effects truly dazzled, they seemed to be in quite short supply and nothing that has not been shown by the likes of Cirque du Soleil and shows like Ka and O in Las Vegas. The second act may have only had one breakdown against the first act's four, but that's largely because it didn't look like there was much to go wrong; the flying is largely confined to the first act. Or maybe the show was simply not ready to show off all the aces it had up its sleeve. I will certainly be curious to see it again once it opens officially in January. But for now it is failing to deliver against the high expectations it has inevitably set for itself."
Mark Shenton on Twitter: "more like a dress rehearsal. 4 breakdowns in 1st act; 1 in 2nd. After all hype about dangerous & supposedly previously untried effects, it was a bit deja vu: nothing you've not seen in Cirque du Soleil. Except that Cirque du Soleil do it all with more skill & polish. SPIDERMAN is walking into a PR disaster, failing to deliver on its promise. Tonight's audience "on side"; only one major heckle at 2nd act breakdown, & short slow handclap. Future audiences may not be so forgiving,."
CapnHook on broadwayworld: "The set, costumes, lighting, and sound will all be nominated for Tonys. Set and costumes is a front-winner to win. The flying sequences are amazing, but even after they get all the bugs out, I feel that they ultimately will stop the story and the show dies. We'll see... I sat in the balcony. There is an entrance from a character that flies from the balcony to the stage. It took four stagehands to get the actor in the place. The actor wears a large costume. It was SO distracting. I have no clue what happened on stage preceding that entrance, because I couldn't keep my eyes off the stagehands and actor getting into place. Not that any of this matters. People going to the show pay for the spectacle and the music. Screw the story. Plot? What plot? Oh. Plot. Right. That thing that supposedly was there but only Julie Taymor could understand because she wrote it in her alien language on her alien planet. ACT I was understandable. ACT II was bizarre. It was completely lost. The show is meant to be meaningful, I guess...? The actors were all fine. Natalie Mendoza is the only stand-out. I usually don't care for Patrick Page, but I loved him in this. Reeve Carney and Jennifer Damiano have beautiful voices but do not have any arc to their characters. Their characters have polar opposite transitions (in regards to growth) but we do not see that journey. The show was stopped 5-6 times. During one of those times in the second act, a woman in the audience screamed out (at least what I think was:) "I don't know about anybody else, but I feel like a guinea pig and I want my money back! We should all get refunds!" The audience booed her. Another time the show was stopped right at the Act I Finale "stunt" and the Spider-Man performer was above the audience. Trapped. Stagehands walked on stage and he swayed and they reached over the orchestra to try and grab him. Took 3 attempts. Audience laughed. The score was OK/Good. It is difficult to tell if the songs are too long, or if it just happened to feel that way due to the long transitions. Spotted in the audience: Sean Hayes, Kevin Chamberlain, Bernard Telsey, Christian Campbell, Michael Reidel, and Casey Nicholaw. The show is not a complete mess. There is SOMETHING there. Let's hope that the Preview period doesn't become just about the technical but also about the substance."
atu2comSherry on Twitter: "Act 1: splash page / behold and wonder / bullying by numbers / no more / d.i.y. world / bouncing off the walls / rise above / Pull the trigger / picture this / I'll take manhattan. Act2: spider-man rising / turn off the dark / walk away / think again / sinistereo/ deeply furious / if the world should end / The boy falls from the sky / love me or kill me (end play) ... Music undeniably u2 sounding. Edge riffs woven beautifully in score. Rise above phenomenal. So far the story is slow and some parts hokey ... Acrobatics have wow factor. Green goblin like macphisto on steroids. Visuals undeniably taymor. ... People around me disappointed by what they have seen so far but they are spiderman fans who rival sheldon on big bang theory ... Patrick page is stealing show. He is fantastic. But so far the story is sooooooo slow moving. Doubt sarah jessica, matthew or sean will return after intermission as they left with their coats and scarves on. I hope 2nd act gives the payoff after sitting through history of arachne, the fates and spiderman before the story took off. The flying circle seats are best, imho. Orchestra tough to watch flying scenes with spotlights in eyes blinding the view ... Biggest crowd responses came when action acrobatics happened late in act 1 or when the female mutated spider was singing in rise above ... But the ovation of the night so far was patrick page playing piano during "I'll take manhattan" & having to adlib during production stoppage ... So far the best I can say is that live theater is an organic process and it is previews, which allow for changes. I do hope there are some. ... music is very much story dependent but rise above could stand alone as a u2 song. Boy falls from the sky is carried through as main theme ... 8 year old behind me said awesome. 6 year old in front said cool. ... Reeve's singing was very good – a bit more full of emotion and fully in character, as opposed to the GMA performance. Jen was great ... Special effects helped story along well. Too bad it took so long for them to enter the plot. We had to wait a long time. ... I'd rank the music 8, effects 7 (they need to work out kinks), and story 4 – too much emphasis on history, not enough on a storyline"
BroadwayPhan on broadwayworld: "Thought visually the show was excellent. Sets are very creative, with an excellent use of perspective. Particularly liked the use of the sets that opened up kind of like a pop-up book. In the first act, it was nice to see how sets could be done differently compared to more traditional set designs, and without using an overwhelming amount of projections that many shows are using now. The set at the end of the first act was spectacular. Flying/special effects sequences were very effective...the flying I thought was infinitely better than the attempts made in Tarzan. It's a multi-directional mechanism that is a bit like the "eye in the sky" cameras above the fields at key sporting events. I did think that the visuals were stronger in the first half than the second, as the second act used more video. The second act seemed to have less energy than the first act (also less flying). That being said...the show has some problems. The biggest is in its book. The first act starts VERY slowly, with a good chunk of the first 40 minutes documenting how Peter Parker ultimately becomes Spiderman. The second act plot seemed a bit empty and confusing. The show ended somewhat with a thud. I think a problem was the lack of character development. I didn't seem to care enough about the relationship between Mary Jane and Peter. Casting-wise...Patrick Page was very good as the Green Goblin. Reeve Carney was just ok as Peter...but thought it was a bit disappointing he didn't do many of the stunts/flying...I presume they were done by doubles. Just imagine if they had to use a double for the boys in Billy Elliot for all the dancing. Jenn Damiano, who has lots of talent, seemed like wasted talent as Mary Jane – mostly due to the lack of great/captivating material given to her. She stood out much more in Next to Normal. In many ways, the role of Mary Jane is a much smaller role than I thought. Lastly, while I'm not too familiar with U2's music, I was underwhelmed by the score. Nothing too memorable from the first round of listening – but maybe that might change for the better after repeat hearings (as they often do for me)."
Thomas Harbinson on Twitter: "intermission numerous tech stops. Spidey got stuck over audience just before the break, but overall: WOW on flying thru theater ... best song of first act IMO is Rise Above. Waiting for Act2, start is delayed. Rope fell on audience stage right end of act1 ... vertigo played as part of scene in act2 ... show just ended. Lots of tech items to work out. Numerous stops and waits. That's why its previews!! "Rise Above" is the song. show needs LOT of work, not just tech. There's not a u2 album release in what I heard. ... after watching the bonus footage, that song sounds so much better with the writer behind the microphone. Maybe there is an album... ... 3rd song in Act2 "Walk Away" between Peter and Mary Jane. Shown on monitor at 24sec mark as "Just Can't Walk Away" ... "hit"? not fair to rate after 1st preview. It's a work in progress at the moment. Cool to see art being created though"
After Eight on broadwayworld: "A simple story should simply be told simply. That's my reaction to the first preview of "Spider-man." The story is one everyone knows and likes. It has two appealing characters one roots for. What could be simpler than to just tell their tale, following the plot of the movie, provide some dazzling arial stunts and scenic design, some good songs, and a couple of laughs along the way. But that's not what has happened here, and to me, at least, the show was a grave disappointment. I went in expecting an evening of high-flying excitement. Instead, I found a dreary bore. The major problem is the focus. Instead of just telling the Peter Parker/MJ tale, the creators have grafted two other storylines onto it which add absolutely nothing and shift the focus from where it should be. The first is a Geek chorus who are supposedly creating the story on stage. All they do is squabble endlessly, and are without humor, charm, or interest. They add nothing but boring time. The other is the character Arachne of Greek legend, who by turns appears as victim, villain, and heroine. She has nothing but the most tenuous relation to the Spider-man story people expect or came to see. She actually becomes the major character in the second act. The creators may be more interetsed in her than in the PP/MJ story, but I don't think the audience is. Certainly I wasn't. The score is more problematic. I found it frankly ugly. The design is elaborate, with some striking effects, but overall I would say it's also not too appealing. There is a lot more magic in "The Lion King" without flying effects than what was displayed here."
lightguy06222 on broadwayworld: "Arachne was utterly incomprehensible to me. The show had four different "opening" sequences. Any of which could have opened the show. The geeks need to go. completely useless. But i dont know if Arachne should be cut entirely. The opening sequence with the weaving was STUNNING. Gave us a greek myltological history of Arachne, and i thought that was a very clever "taymor" way of beefing up the story. But she shouldn't be such a central character. it does not make sense."
Daniel Gene Martin on Twitter: "The sets are incredible at @SpideyOnBway. There's a lot of comic book type stuff and some really cool forced perspectives. ... Music sounds very much like U2, but in a good way. It's rock driven and epic. ... One of the best parts of Act I is an aerial battle with SPIDERMAN and a villain only a few feet above the audience. My heart was racing. ... Audience getting anxious...someone in the audience just asked for a refund...eek! ... I definitely wanna see @SpideyOnBway again!!! I'll give the show a few weeks to work out all the kinks though .... the potential of this show is amazing!
jimmit on broadwayworld: "WOW. Astoundingly awful. Incomprehensible plot, terrible book, simplistic choreography, forgettable music – what little there was I could actually hear, I probably couldn't understand a good 60% of the sung vocals and the orchestrations were mostly sheer mud. The scenic design is fantastic but middling in execution. For all the talk about the flying effects, they're a let-down – see one Cirque show and you've seen far more impressive than this. How in the world did this get so far? A lot of talent on that stage utterly wasted. One of the few Broadway shows I've ever seriously considered walking out of – and many around me did.