Early Buzz: Richard Kelly On Kevin Smith's 'Red State'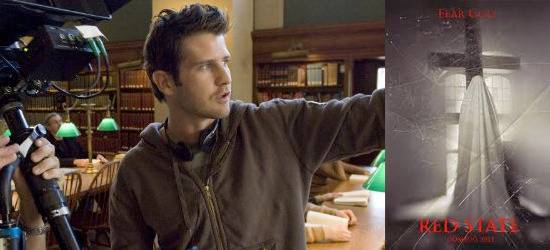 Donnie Darko/The Box director Richard Kelly has seen Kevin Smith's upcoming indie horror film Red State, and spoke briefly about the film while appearing at Smith's Smodcastle screening of Southland Tales. What did Richard think? Hit the jump!
"I have never seen a filmmaker reinvent himself the way you just have. I won't say anything else because I don't want to spoil anything. It's really really exciting. If the movie ends up playing at Sundance, I might actually come up to just see the audience's response. I can not wait..."
Smith later described Kelly's reaction as "He had this expression on his face which was almost like 'Hey man, your dog just started talking to me!' You know what I'm saying? He was like 'You didn't make this! Like really, who made this?'" Of course, Kelly is a personal friend of Smith's and obviously wouldn't say anything negative about his friend's movie, but I do think his reaction is interesting. I can't wait to see the reinvention of Kevin Smith at Sundance, and it seems that the reaction of the Sundance audience could end up being equally as interesting. You can listen to the whole one and a half hour discussion with Kelly on Smodcast.com.